Quick facts
At 5,895m, Kilimanjaro is the highest free-standing mountain in the world 
To successfully summit Kilimanjaro you must respect altitude and only buy a 7 - 10 day trek
The best time to trek Kilimanjaro is January - March & mid-Jun to mid-October
Kilimanjaro treks range from AUD$3,500pp to more than $10,000pp and include National Park entry fees of approx. AUD$200pp/day
You must trek Kilimanjaro with a registered Tanzanian guide
Kilimanjaro is located in Tanzania 
About Kilimanjaro
At 5,895m (19,341 feet), Tanzania's Mount Kilimanjaro is the world's highest free-standing mountain, and one of the most iconic, beautiful and challenging treks in the world. While the snow-capped volcanic peak of Kilimanjaro is considered the easiest of the "Seven Summits" - the highest mountains of each of the seven continents - this trek should not be underestimated. No matter your fitness level, summiting Kilimanjaro will challenge you. The great news is, Adventure Out Loud have helped 98% of our trekkers reach Kilimanjaro's summit since 2015. 
Mount Kilimanjaro stands in isolation, towering over Kilimanjaro National Park, which was established in 1973 and spans some 1,688 square kilometres. On a clear day, Kilimanjaro's highest peaks, can be seen from hundreds of kilometres away. Kilimanjaro National Park is also home to distinct and diverse flora and fauna, which are determined by altitude. The blue monkey, colobus monkey and the adorable bush baby all make their homes around the mountain, along with many other unique animals.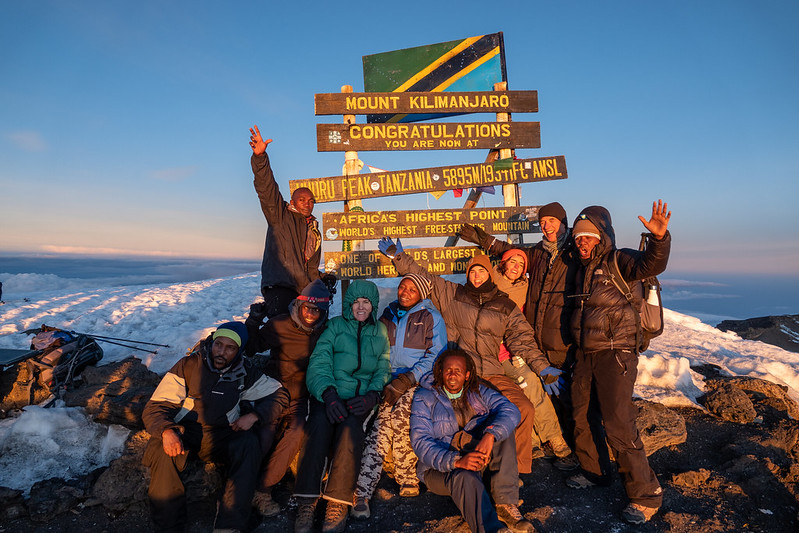 Climbing Kilimanjaro
Kilimanjaro is considered one of the easiest big mountains in the world to trek because you do not need technical mountaineering gear or training. It's estimated that 30,000 - 50,000 people trek Kilimanjaro each year, with approximately 70 - 80% of these trekkers successfully summiting. 
There are things you should do to increase your chances of reaching Kilimanjaro's summit. The first is the golden rule of planning a 7 - 10 day trek to allow plenty of time for proper acclimatisation and other safety measures. At Adventure Out Loud, our experienced guides are trained in high altitude safety protocols. We know how to spot altitude symptoms early, and we will always take the appropriate measures to keep you safe and prevent altitude sickness. 
Altitude sickness on Kilimanjaro
Altitude sickness can affect anyone who treks higher than 2,500m above sea level. Once you reach 2,500m, the golden altitude rule is to never sleep at an altitude that is more than 500m higher than the previous day. Given Kilimanjaro is 5,895m, the shortest trek you should buy is 7 - 10 days.  Approximately, 90 - 95% of trekkers on 7 - 10 day treks, reach the summit of Kilimanjaro, compared to 50 - 70% of trekkers who buy 4 - 6 day treks. 
It is also important to manage altitude during your trek by:
Never trekking above 2,500m if you have a cold, flu or COVID
Eating & sleeping well
Walking slowly
Keeping hydrated
And trekking high and sleeping low (i.e. on day 3 of the Machame trek, you reach Lava Tower (4,630m) at lunch, before descending to 3,950m to sleep at Barranco Camp).  
To help us keep you safe, we recommend you learn more about trekking at altitude by reading our beginners guide to trekking at high altitude. This will help you feel prepared and ensure you know how to listen to your body whilst on your Kilimanjaro trek.
Kilimanjaro's many routes
There are currently eight routes leading to Kilimanjaro's summit, Uhuru Peak. Our favourites are the 7-day Machame Route and the 8-day Lemosho Route, because they offer the best acclimatisation & views. The 10-day Northern Circuit is also a fantastic trek, but it can be expensive as it is hard to find enough people to join your group. In the wet season, a 7-day Rongai trek can be a drier option, however this trek doesn't offer the best acclimatisation or views. To find out more about Kilimanjaro's ascent routes, and for help picking which is best for you, read our what route is best for me when climbing Mount Kilimanjaro blog. 
Marangu is the only route with huts, but we do not recommend Marangu because of poor altitude acclimatisation as a result of most Marangu treks being 4 - 6 days, less than the golden rule of 7 - 10 days. The huts on Marangu are also less comfortable than the high-quality tents used by Adventure Out Loud. Shira & Umbwe routes also offer poor acclimatisation and are not recommended.  
Best time of year to trek Kilimanjaro
July - September is the busiest trekking season with full moon periods in high demand. July to September offers the best weather and because it coincides with the European & North American travel season, you can expect large crowds on Kilimanjaro at this time of year. However July - September is not the only good time of year to make your attempt on the summit, and going at a less popular time of year can result in a trek with fewer crowds, without compromising on weather and ideal hiking conditions. Understanding the seasons at Kilimanjaro is a helpful way to not only plan when you would like to go on your trek, but also to figure out what you'll need to bring when you go.
Our favourite time to trek is January - March, mid-June to mid-July & late September. These periods offer fantastic weather, without the large crowds.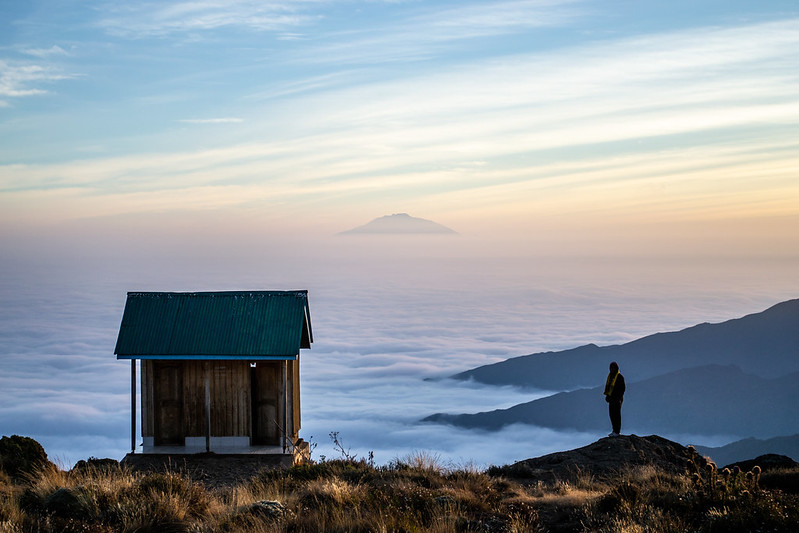 Training for Kilimanjaro
It's a good idea to start training for you Kilimanjaro adventure at least six months prior to your trek. The best way to train is to replicate the trekking you will be doing on the mountain. Our advice is to learn by doing - tackle as many long local hikes as you can before departing for your trek. If you can do this while carrying your gear and wearing the hiking boots you plan to take on your Kili trek, even better!
Unfortunately, you cannot train for altitude in Australia. Our highest mountain is only slightly higher than the starting point on Kilimanjaro, and whilst altitude gyms and masks may help, you cannot rely on this training to guarantee success. The only thing you can do, is buy a 7 - 10 day trek, to allow enough time for your body to properly acclimatise. 
Packing for Kilimanjaro
Climbing Kilimanjaro is a huge achievement that requires good preparation and the right support. As veteran Kilimanjaro trekkers, we offer both! We can provide a comprehensive cost breakdown that details how much you should budget to reach your goal, and our step-by-step Kilimanjaro packing guide contains everything you need to know about packing for Kilimanjaro.
Along with good hiking shoes, wet weather and cold weather gear, there are lots of Kilimanjaro essentials that you should bring on your trek, but by ensuring you have a good list of exactly what you'll need on your trek, you can still pack light and make sure you're not carrying any unnecessary weight. The good news is, as a client of Adventure Out Loud, you can get special discounts from outdoor suppliers if you need to stock up on any new gear. You can also hire high-quality trekking gear in Tanzania before your trek.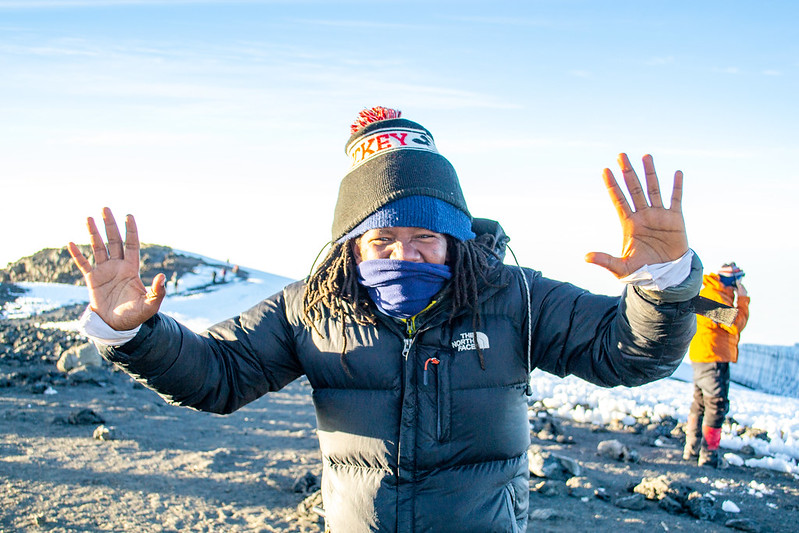 Getting to Mt Kilimanjaro
Tanzania has three international airports, but Kilimanjaro International Airport is the most common entry point for travellers wanting to trek Kilimanjaro.
Once you arrive, you'll want to spend a night in Moshi or Arusha before starting your trek. Getting to Moshi or Arusha with us is easy because we'll pick up from the airport. You can also travel to Moshi or Arusha independently, by taxi, although this can be a bit more challenging, as it can sometimes be difficult to ensure you're travelling with a reliable operator.
Things to do around Mt Kilimanjaro
Trekking Kili may be the highlight of your trip, but there a number of other unforgettable experiences you can have before and after your hike. From coffee tours and cultural experiences to exploring hidden waterfalls and spotting rare wildlife, Kilimanjaro National Park is a hive of activity for travellers.
Tanzania also has the best safari in Africa, incredible chimpanzee treks, swimming with whale sharks, and snorkelling in the clear waters off Zanzibar! Further afield, East Africa offers amazing tourist experiences like gorillas, white water rafting, historic tours, cultural tours and many more unforgettable experiences. If you're looking for a few cheap and easy activities to add to your trek, here are the best one day experiences around Mount Kilimanjaro.  
How to pick the right company to trek Kilimanjaro with?
There are many good tour operators who can organise a safe and enjoyable Kilimanjaro trek for you. When picking which is best for you, there are a few things you should consider including:
Their experience
Responsible tourism policies & practices
Communication and their ability to listen to what you want & create an unforgettable experience that is tailored to your needs
To find out more, read our blog, about how to choose the right tour operator for your African adventure.
Is Tanzania & Kilimanjaro safe?
Most countries in East Africa, including Tanzania, are classified by the Australian government safe to travel to. As long as you stay informed about local customs, illnesses and vaccinations and potential crime risks in certain areas, you will enjoy a peaceful and enjoyable stay. Your guide will be able to make recommendations about any necessary health and safety precautions prior to your trip. Altitude is by far the biggest risk for your Kilimanjaro adventure, which is great news because it it relatively easy to manage when you trek with a reputable company and buy a 7 - 10 day trek. For more information about safety, read our how safe is East Africa blog. 
Do I need travel insurance for Kilimanjaro? 
Definitely YES! If you are travelling with a reputable company, like Adventure Out Loud, travel insurance will be mandatory. When purchasing travel insurance, make sure your policy covers you for trekking and camping up to 6,000m without specialised climbing equipment. For more on travel insurance, read out blog how to choose the right insurance for your African adventure? 
A Kilimanjaro VLOG
In 2016, Chris climbed Mt Kilimanjaro with Adventure Out Loud. As part of his climb, Chris fundraised to sponsor the secondary school education of a young girl living in Kibera Slum. Her name is Faith. Upon his return home, Chris completed a short video log of each of his 6 days on Kilimanjaro for the friend or relative who had sponsored that days walk. Check out Chris' Kilimanjaro VLOG.  
Kilimanjaro itinerary ideas
Now that you're ready to trek Kilimanjaro, pull on your hiking boots and prepare for an adventure of a lifetime! Below are a few of our favourite Kilimanjaro trekking adventures. These itineraries are available every day of the year as private or small group adventures.