Mount Kilimanjaro is known to be one of the easiest big mountains in the world to climb, but don't be fooled - summiting Kili is no walk in the park! No matter your fitness and experience levels, Kilimanjaro will challenge you… but we've got your back! Since 2015, we've helped 98% of our trekkers reach the summit of Kilimanjaro. And now, it's your turn!
There are eight main routes to Uhuru Peak, the summit of Kilimanjaro, which means there's a trek that's right for everyone. Choosing a route to the top that suits your personal levels of fitness and experience is a great way to maximise your chance of summiting Kilimanjaro. For most people, we recommend the Machame Route or the Lemosho Route due to their superior acclimatisation and superb scenery.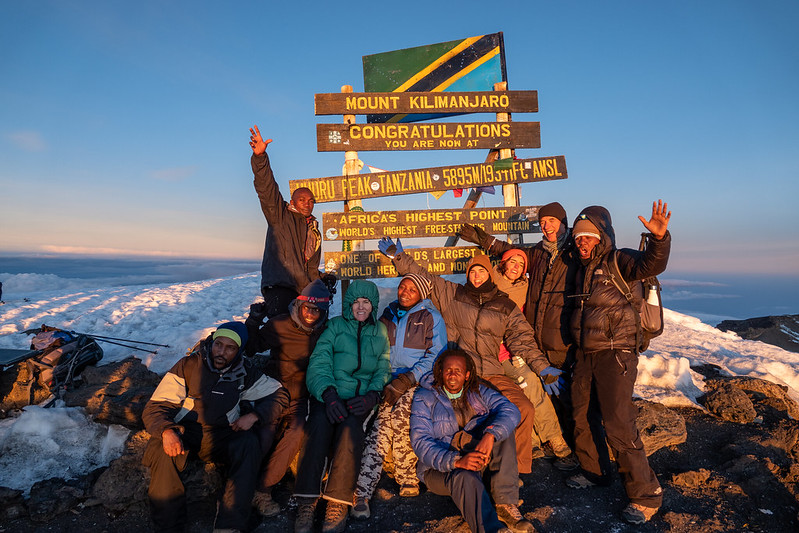 Over our years of supporting trekkers on their journeys to the summit, we've noticed that there's a direct link between the number of days you're trekking for and your chance of successfully making it to the top. We recommend allowing at least 7 days for your trek - this will help you to acclimatise and give you plenty of time to enjoy the experience. To find out more, read our beginner's guide to high altitude & altitude sickness. Here's our comprehensive guide to Kilimanjaro's ascent routes, in order of recommendation. 
1. Lemosho (best acclimatisation)
Duration: 8 days
Distance: 70km
Experience level: Low to moderate
Pros: Beautiful scenery, best acclimatisation schedule, great wildlife viewing options
Cons: More expensive than other routes due to additional days
Lemosho is the most scenic and beautiful route to Kilimanjaro's summit, starting in lush rainforest and heading up and across the Shira Plateau, which used to be the mountain's third active volcano before the peak collapsed aroudn 500,000 years ago. Moving north to Moir Hut, short hikes can be done in the nearby Lent Hills, serving as a good acclimatisation day. The route then heads up over Lava Tower before questing down into the breathtaking Barranco Valley. From there, the route moves straight up the imposing Barranco Wall, along the southern circuit to Karanga and finally, to base camp at Barafu Hut. The summit attempt is made from Barafu Hut early in the morning; a cold and windy undertaking until the sun comes up. To avoid the crowds, Adventure Out Loud usually camp at Kosovo Camp which is slightly higher than Barafu, making the summit slightly shorter. The descent follows the Mweka trail.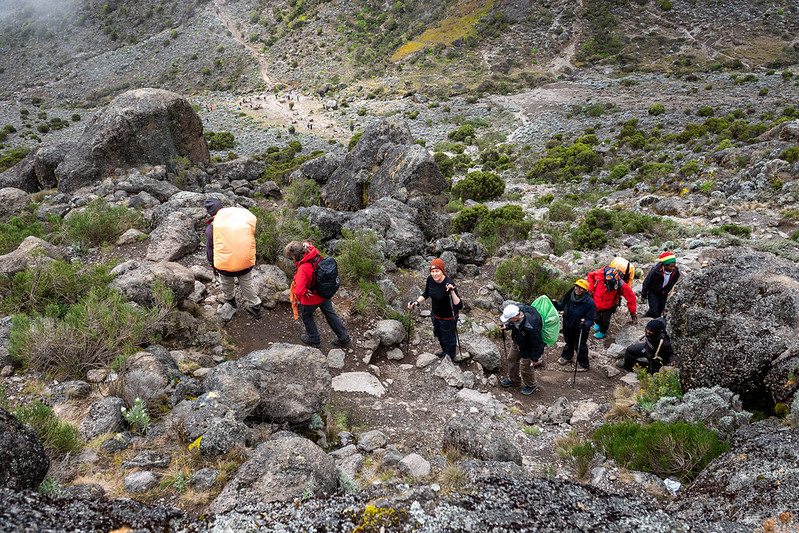 2. Machame (great acclimatisation)
Duration: 7 days
Distance: 62km
Experience level: Low to moderate
Pros: Most accessible trail for first-time or less experienced trekkers, great acclimatisation schedule
Cons: Most crowded route (particularly between Jan - Feb & Jul - Aug)
Starting within Kilimanjaro's rainforest terrain, the beginning of the trek may be steep and slippery, but the trees disappear as the route climbs across the Shira Plateau and towards the volcanic plug, Lava Tower. Shortly before reaching Lava Tower, Machame, Lemosho and Shira routes join (see Lemosho description for more). Descent is via the Mweka route.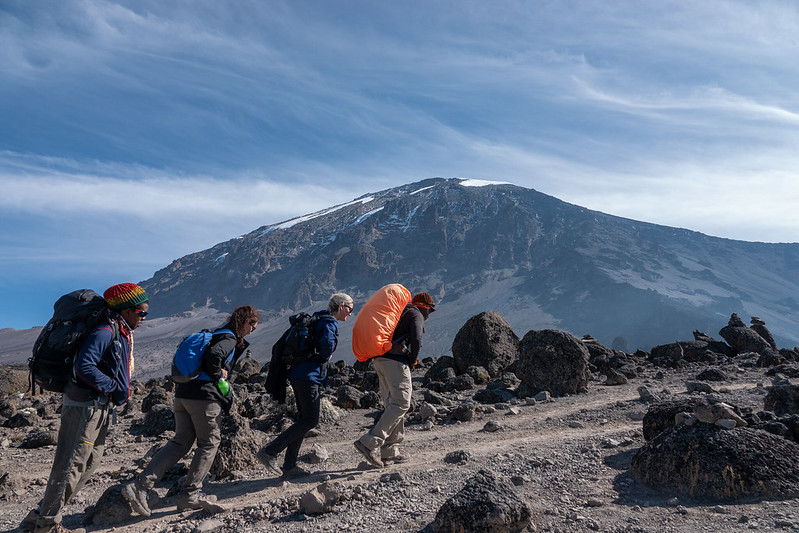 3. Northern Circuit  (best acclimatisation)
Duration: 10 days
Distance: 88km
Experience level: Low to moderate
Pros: Best acclimatisation schedule, best to avoid the crowds
Cons: Not recommended unless you are trekking in a group of 3+ due to cost, slightly longer summit night than Lemosho & Machame
The Northern Circuit approaches Kilimanjaro from the west, and the first two days are spent moving through beautiful rainforest to Shira Ridge, before crossing the Shira Plateau to Moir Hut (similar to Lemosho). The route then turns northward, circling Kibo to School Hut before summiting from the east. An easy descent is made on the Mweka or Manangu routes. This route circles Kibo on the opposite side to Lemosho & Machame, and shares a similar summit to Marangu. 
4. Rongai (best in rainy months)
Duration: 7 days
Distance: 88km
Experience level: Low to moderate
Pros: Low crowds, gradual slopes, passes through interesting wilderness areas and feels remote, can be climbed during the rainy season as the northern side of Kilimanjaro receives the least precipitation
Cons: Scenery is not as varied as the western routes, inferior acclimatisation schedule to Lemosho, Machame or Northern Circuit
Rongai is the only route that approaches Kilimanjaro from the north, beginning close to the Kenyan border. The path begins winding through corn and potato fields before entering a forest, which is home to a variety of wildlife including the colobus monkey. The path takes a steady incline up to Second Cave and on to Kikelewa Cave, moving up to Mawenzi Ridge for a day of acclimatisation. The route then crosses the saddle between Mawenzi and Kibo to reach Kibo Hut. The summit attempt is made from here, with the descent via the Marangu trail.
 
5. Shira
Duration: 8 days
Distance: 56km
Experience level: Moderate - high
Pros: No advantages when compared to Lemosho
Cons: Very high starting elevation of 3,600m which increases your risk of altitude sickness from the start of the trek 
We do not recommend this route given the extreme starting elevation and as the route is basically the same as Lemosho from day 2 - 3. It is much better you choose Lemosho. 
6. Marangu
Duration: 4 - 6 days
Distance: 82km
Experience level: Moderate - high
Pros: Offers huts instead of camping, gradual slopes
Cons: Inferior acclimatisation schedule to Lemosho, Machame or Northern Circuit, scenery is less varied as the ascent and descent are made along the same path, harder & longer summit night, and huts are often run-down and not as nice as camping.
Also known as the "Coca Cola" route, Marangu is Kilimanjaro's oldest and most well-established route. Numerous huts are scattered along the route, allowing for dormitory-style accommodation, including dining rooms and basic bathroom facilities. Sleeping bags and pillows are still required. The trail begins through tropical rainforest, which opens up as it moves along the hillside to Mandara Hut. Passing through Mawenzi Ridge, there is a brief opportunity for an acclimatisation day, before crossing the saddle to Kibo Hut. An early morning summit attempt is the longest and most challenging part of the route. The descent also follows the Marangu route.
NOTE: 
Many people choose Marangu for the huts, thinking they will be more comfortable than tents. They are not! They are often overcrowded, under-repaired, dirty and you do not get to choose who you share with. When you trek with us, you will have high quality 4-season tents, comfortable air mats and our team will ensure your tents are set-up and ready for you before you get to camp. We guarantee we can make camping more enjoyable than your stay in Marangu's huts.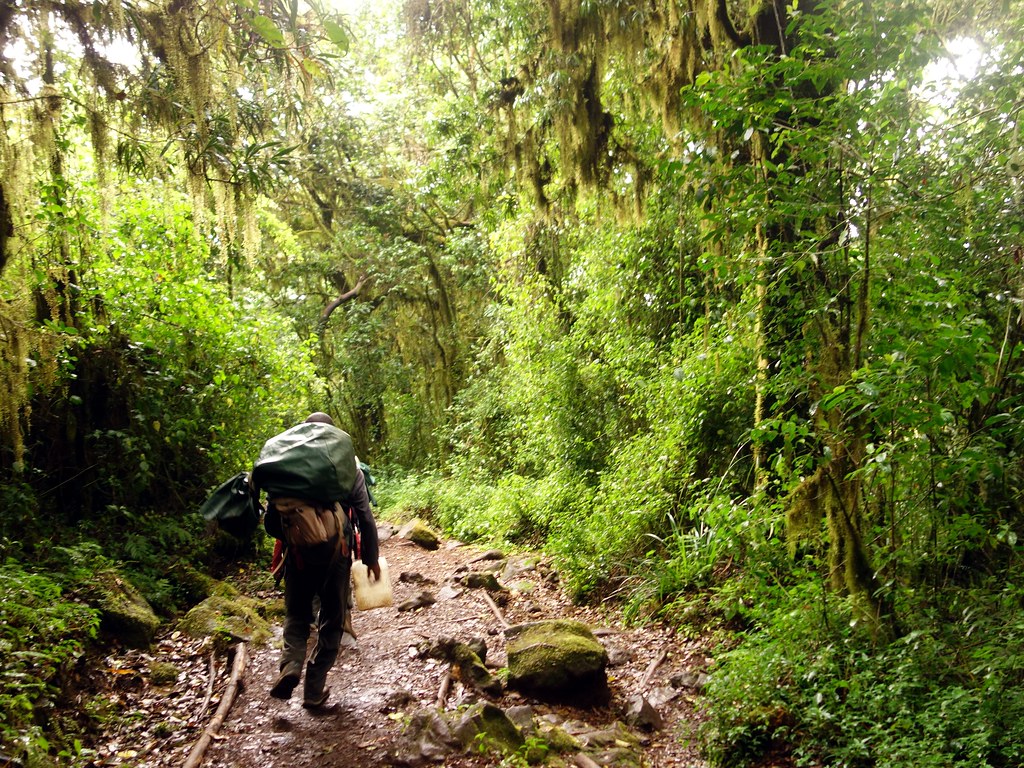 7. Umbwe
Duration: 4 days
Distance: 53km
Experience level: High - Expert
Pros: Fast ascent if you're attempting a record
Cons: Very poor acclimatisation, very steep and challenging trail
The Umbwe route is infamous as one of the most challenging trails to the top of Kilimanjaro. It is most often used by professional climbers, particularly those who are trying to break a record. It is also used as an evacuation route from Barranco Camp. Approaching the mountain from the south, the route is short, steep and direct, reaching Barranco Camp and then turning east to traverse under the Southern Ice Field on the Southern Circuit. The summit attempt is made from Barafu, descending via the Mweka route.
8. Western Breach
Duration: 7 - 9 days
Distance: 64km
Experience level: High - Expert
Pros: Will not be crowded, passes through Crater Camp.
Cons: Due to significant rock fall risk, Adventure Out Loud does not offer guided treks up the Western Breach
The Western Breach route sees very few trekkers and requires a high level of experience due to its technical nature. Approaching from Umbwe Gate, the trail rapidly ascends to Barranco Camp before continuing up to Lava Tower. The route then requires a steep scramble up to the Crater Camp near the Reutsch Crater and one of Kilimanjaro's last remaining glaciers, Furtwangler Glacier. The final push to Uhuru Peak is typically followed by a descent down the Mweka route. Due to significant rock fall risk, Adventure Out Loud does not offer guided treks up the Western Breach. Consider adding an extra day to the Lemosho itinerary to stay at Crater Camp, which has all the scenic benefits without the extreme risk!
How to choose which Kilimanjaro route is best for you?
Choosing the route that is best for you is relatively easy and you can apply the below to help:
Best acclimatisation trek = 10 day Northern Circuit or 8 day Lemosho
Shortest & cheapest trek = 7 day Machame
Best rainy season trek = 7 day Rongai
Best overall trek = 8 day Lemosho
Once you've decided which route is for you, you can start to prepare! Check out our beginner's guide to high altitude & altitude sickness or our how to pack for Mount Kilimanjaro blog to download a complete packing list and learn everything you need to know about the unforgettable journey ahead. Alternatively,
Ready to start planning your African adventure?
Our private and custom-built luxury adventures are individually crafted to meet your wildest dreams! Secluded beach getaways, romantic safaris, honeymoon surprises, unique accommodation, or something a little weird and wonderful, tell us your wildest adventure dreams and we'll make them a reality. Book a free consultation with an African safari experts today so we can help you plan your dream safari adventure.