When packing for Kilimanjaro, keep in mind that Kilimanjaro is an extremely large mountain, with five different climate zones! This means temperatures can vary significantly, from warm 20 – 25 degree Celsius days to below zero nights. Summit night, in particular, can drop to -10 degrees Celsius. It's incredibly important not to underestimate how cold, wet or windy you Kilimanjaro trek may get.
To purchase all of the gear you need to trek Kilimanjaro can be incredibly expensive. That is why, we recommend purchasing the essentials outlined below and hiring everything else. Particularly if this is your first big hike or you aren't sure if you are going to use the gear again, it is much better to hire and save the money. Our comprehensive Kilimanjaro packing list outlines all of the gear that you must buy, gear you should buy if you can afford, and gear that you can hire. A packing guide is a great way to make sure you're travelling light while still carrying everything that you need.
Download our comprehensive Kilimanjaro packing list
If you aren't sure how to choose what type of boots to wear, or you want more help packing, watch our Kilimanjaro packing video, This video outlines everything you need to know about how to pack for Kilimanjaro, provides examples of gear, and things to look out for when you're purchasing or hiring your gear. 
8 Kilimanjaro Essentials
There is a lot of gear you need to organise before your Kilimanjaro trek. It can be confusing figuring out what gear you must have and what gear you can forego. Your trekking company should be able to give you personalised advice, and they should be checking all of your gear before you start your trek and taking you to hire gear that you are missing. There are a few essential pieces of gear that you MUST buy and bring with you though. This is critical, and we'd also highly recommend that this gear is in your carry-on luggage, just in case your bag goes missing during transit. Below we've outlined these essentials in order of importance, to help make packing for your Kilimanjaro adventure easy.  
1. Boots
Must be warm and waterproof.

The best way to check your boots are waterproof, is by standing in a bucket of water.
If they let in any water, they are not waterproof! You can try and treat them again, but if they still leak, you will need to buy new boots. 
Waterproof boots are critical! If it rains during your trek, your boots will get wet and they will not dry. This will result in your feet freezing during summit night when temperatures drop to -10 degrees Celsius. This is incredibly painful and will wreck your trek.  

Must be well worn to avoid blisters.
Should be warm and a little large to fit extra socks on summit night. 
We do not recommend hiring boots in Tanzania, because they often are not waterproof! Spending a few hundred dollars on good boots, will single-handedly make your trek so much better. 
2. Gloves or mittens
Must be warm and waterproof.
As with your boots, if you bring gloves or mittens that are not waterproof and it rains, your gloves or mittens will get wet and will not dry before summit night. If this happens, your hands will freeze on summit night, which is incredibly uncomfortable.
We prefer mittens to gloves as they are easier to pull on and off. It is also easier to rub your fingers together in mittens to keep them warm. 
We do not recommend hiring gloves or mittens in Tanzania, because they often are not waterproof! Spending a few hundred dollars on good gloves or mittens, can make or break your Kilimanjaro trek. 
You should also bring inner gloves for extra warm. We love the cotton ones you can buy from K-Mart or Target, just make sure they fit inside your outer gloves or mittens.
3. Water bottles
It is critical that you stay hydrated during your trek, and you should aim to drink 3 - 4L of fluidseach day. 
To protect Kilimanjaro National Park, trekkers are prohibited from bringing single-use plastic bottles on their trek. Flout this rule, and you will be slapped with a USD$50/day fee for each single-use bottle you bring. 
A better option is to buy 4 x 1L Nalgene bottles and bring them with you. You cannot buy them in Tanzania.
Bottles are better than a water bladder because they don't freeze as easily.
It is also easier to monitor how much water you are drinking when you use bottles. 
If you are a cold person, Nalgene bottles are also great because they can be filled with hot water and used as a hot water bottle at night.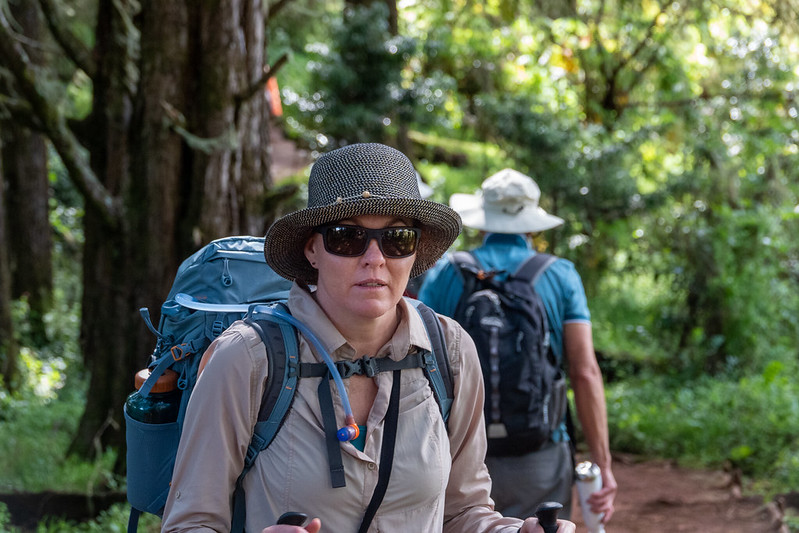 4. Waterproof and windproof gear
Gortex or equivalent jacket and pants are highly recommended, but can be expensive. If you will use them on other treks, they are well worth the investment though. 
Waterproof bag covers are also essential and it is also a good idea to bring dry bags for essential gear like jackets and sleeping bags. 
If you want to save money, a large, high-quality poncho will suffice. Just make sure it is thick enough that it won't rip easily. It is also a good idea to bring a backup and if you aren't bringing bag covers, make sure your poncho also covers your bag. 
You can hire high-quality ponchos in Tanzania, but you cannot hire hire quality gortex jackets and pants. 
5. Thermal sleeping bag liner
Must be thermal, not cotton or silk. 
Recommended for additional warmth and to keep your bag clean. They can add up to 15 degrees.
Cannot buy in Tanzania, but you can hire them from Adventure Out Loud for AUD$25pp/trek. SImply email us to book. 
6. Thermals
Good quality thermals are difficult to hire. 
Buy, borrow or bring at least one pair (top, bottom and socks) of good quality thermals. You may need 2 pairs all up.
We recommend you buy merino wool thermals because they are the warmest, they don't stink when you sweat in them, and they feel nice. You can also look at synthetic or bamboo thermals if you want to save money. 
You can easily hire additional thermals if needed, but bring one good quality set from home. 
7. Toe nail clippers
You should cut your nails before your trek. If you don't, your nails will rub on the front of your boots when you descend and you may lose a few nails.
Make sure you don't cut them too short though, this can cause the skin on the toe to split and bleed. 
8. Spare batteries and a power bank
Batteries deplete incredibly quickly in cold temperatures. 
To make sure you have enough battery on your phone or camera to take that million dollar summit photo, make sure you bring spare batteries and/or a power bank. 
You will also need to sleep with your batteries and phone to keep them warm at night, and on summit night, you should put them in a pocket against your body. 
If you want to use your camera, bring at least 1 spare battery and carry both batteries close to your body to keep them warm until the sun rises. We once went through 3 camera batteries in less than 10 minutes.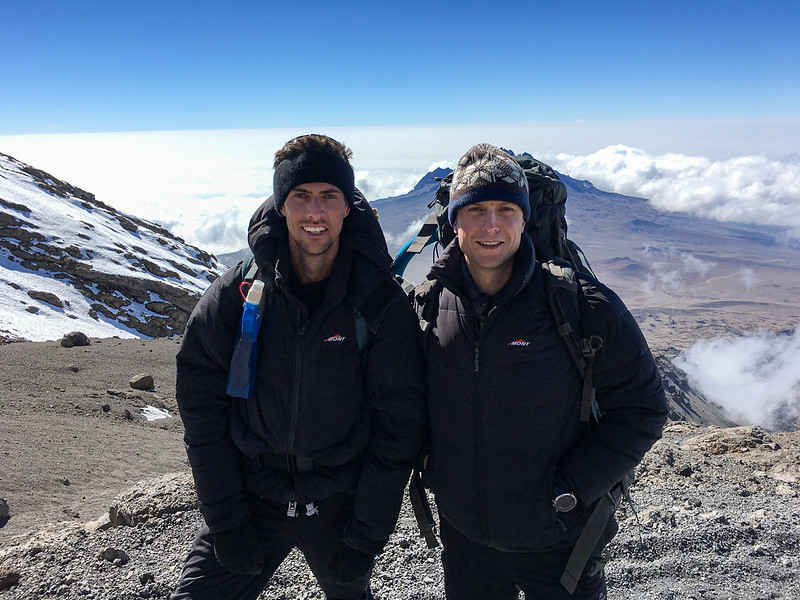 Gear for hire
If you want to save money, hiring equipment is relatively cheap and easy in Tanzania. Once our team check your gear, we will take you to a hire shop where you can hire anything you don't have. Payment is by USD or Tanzanian Shilling cash upon hiring, and after your climb, we'll return the trekking gear for you.
Please note that hire shops often do not maintain their equipment, so there is no guarantee the item you are hiring will be waterproof or warm. We recommend you buy or borrow the essential items outlined above to manage this risk.
| | | |
| --- | --- | --- |
|  Item – per piece/pair | Price guide (USD) |  Notes |
| Trekking poles (pair) | $10 | Recommended for older or less fit trekkers. |
| Boots (pair) | $30 | Cannot guarantee they'll be waterproof. Best to bring your own. |
| Thermal underwear (piece) | $10 | Bring at least 1 good pair from home. |
| Trekking pants (piece) | $10 |   |
| Fleece jacket (piece) | $15 |   |
| Down jacket (piece) | $30 |   |
| Rain jacket (piece) | $15 |   |
| Rain trouser (piece) | $15 |   |
| Hard shell jacket (piece) | $15 |   |
| Hard shell pant (piece) | $15 |   |
| Headlamp (piece) | $15 | Bring your own batteries. |
| Warm beanie (piece) | $5 |   |
| Balaclava (piece) | $5 |   |
| Sun hat (piece) | $5 |   |
| Pair of inner gloves (pair) | $5 |   |
| Gloves/mittens (pair) | $10 |   |
| Trekking backpack (20-40 litre) | $30 |   |
| Large duffle bag (50-70 litre) | $35 |   |
| Warm sleeping bag | $40 | Must bring your own thermal bag liner. |
| Gaiters (pair) | $10 |   |
Food on Kilimanjaro
When you trek with Adventure Out Loud, you will have a personal chef accompany you up the mountain. All food is prepared fresh and includes a balanced diet of carbs, proteins, fats, fruit and vegetables, to keep you at peak performance for the duration of the trek. Please be aware that there are limited meat options available, but we will do our best.
Snacking is important during your Kilimanjaro trek, as snacks provide you with a few extra calories and a bit of a pick me up. We will serve you snacks at the end of each day, but you should bring your own personal snacks for during the day. We'd recommend not bringing too many snacks, as there will be plenty of food provided for you and you don't want too much extra weight in your pack. Limit your snacks to one or two per day on the mountain. Muesli bars, nuts, chocolate and dried fruit are all great snack ideas.
Ready to start planning your African adventure?
Check out our ultimate guide to trekking Mt Kilimanjaro or book a consultation with an African trekking experts to start planning your unforgettable Kilimanjaro trek. Our small group and private adventures are individually crafted to meet your wildest dreams! Secluded beach getaways, romantic safaris, honeymoon surprises, unique accommodation, or something a little weird and wonderful, tell us your wildest adventure dreams and we'll make them a reality.