Key take aways:
Jan - Mar & Jul - Sep are the best times to trek Kilimanjaro.

These are also the best months to go on safari & trek with gorillas and chimps. 

Avoid Apr - Mid-June as this is the rainy season.

If you have to trek in these months, try the Rongai route as it is often drier than other routes at this time of year.  

Mid-June is a great time for weather and to score a bargain. 
Crowds are large in peak seasons from Jan - Feb & Jul - Aug.
When planning the timing of your Kilimanjaro trek, you should consider the fact that Kilimanjaro is close to the equator, and doesn't experience the same seasonal patterns as other parts of the world. Instead of four seasons, Kilimanjaro experiences wet seasons and dry seasons, which significantly change conditions on the mountain.
We recommend planning your trek during the dry seasons, between January - March or July - September.
Here is a breakdown of what conditions are like on Kilimanjaro throughout the year. See our average rainfall by month and average rainfall days per month overviews below for even more detail.
The Seasons on Kilimanjaro
January - March
Best time to avoid the crowds. Mostly dry days with good visibility. You may experience the occasional show and there's a good chance of snow higher up on the mountain, which is an incredible spectacle. This period is outside the main climbing season, with fewer trekkers than in July - September, but it will still be busy. Routes are busiest during the full moon.
April - Mid-June
Not an advisable time of year to trek, as the "long rains" set in and it is very wet, making for muddy trails, cloudy skies and poor visibility. If your schedule dictates that you need to do your trek at this time of year, the routes on the northern and western sides of the mountain such as the Rongai route or the Northern Circuit experience slightly less rainfall, but you still need to be prepared for wet weather, low visibility and challenging conditions on the trail.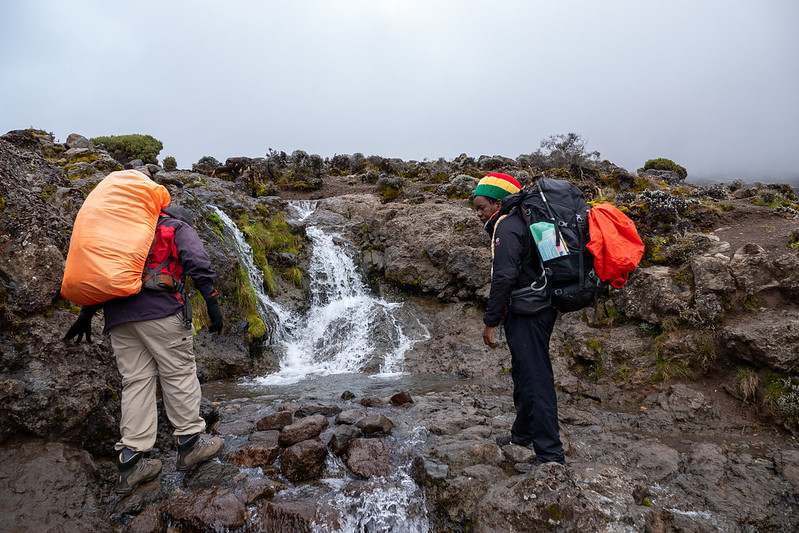 Mid-Jun - July
Great time of year to avoid the crowds and score a bargain. Weather is usually good and crowds are smaller allowing for optimal trekking. This is also a good time to avoid peak season rates which start in July. 
July - September
Great weather and North American and European summer vacations mean this is the busiest time of year on the mountain. July and August are the most popular months, so we recommend going later in the season, or even early October. Occasional showers are still possible during this time period, particularly in the forest at the base of the mountain. Routes are busiest during the full moon.
October - December
Reasonable chance of wet weather, especially around November when the "short rains" roll through. The mountain is mostly quiet during this time, but can become very crowded on New Year's Eve. 
The best time of year to avoid large crowds and minimise your chance of rain on Kilimanjaro is January - March. Conditions on the mountain are slightly cooler, and you are climbing outside of North America and Europe's peak travel season. The cool conditions increase your chances of snow on higher areas of the mountain, which can make for some incredible photo opportunities!
What's the Rainy Season Like on Kilimanjaro?
The Kilimanjaro area experiences two types of wet seasons:
Long rains: Late March - May/June
Short rains: November
During the rainy seasons, conditions on the mountain can be wet, stormy, muddy and cloudy, particularly along the southern face. The heaviest precipitation typically occurs in April, with an average monthly rainfall of 370mm (14.6in). The driest month is July, with an average monthly rainfall of 20mm (0.8in).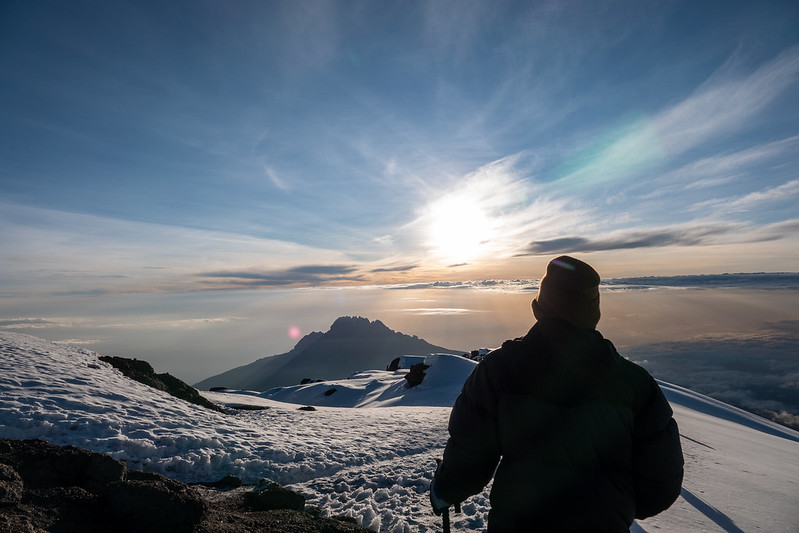 Rainfall by Month
Here is a breakdown of the average monthly rainfall (mm) on Kilimanjaro throughout the year.
| | | | | | | | | | | | |
| --- | --- | --- | --- | --- | --- | --- | --- | --- | --- | --- | --- |
| Jan | Feb | Mar | Apr | May | Jun | Jul | Aug | Sep | Oct | Nov | Dec |
| 124 | 111 | 189 | 223 | 88 | 28 | 16 | 25 | 29 | 69 | 149 | 139 |

Average Rainfall Days
Here is a breakdown of the average number of rainy days each month on Kilimanjaro throughout the year.
| | | | | | | | | | | | |
| --- | --- | --- | --- | --- | --- | --- | --- | --- | --- | --- | --- |
| Jan | Feb | Mar | Apr | May | Jun | Jul | Aug | Sep | Oct | Nov | Dec |
| 22 | 20 | 26 | 28 | 25 | 17 | 14 | 17 | 16 | 23 | 25 | 27 |

Visibility
Trekking through cloudy or foggy skies is less than ideal when you're climbing Africa's highest peak and expecting spectacular views. During the wet season, visibility on Kilimanjaro is significantly reduced due to poor cloud cover, so you won't get the same vistas as you would during the dry season. Poor visibility can also reduce your safety while trekking. For these reasons, May is not recommended, despite having a lower average rainfall than other months, because most days will be cloudy with rain or showers. 
Temperature
Temperatures on the mountain vary with the seasons, but you will also enter into several significantly different climate zones as you ascend.
At the base of the mountain, average maximum temperatures reach into the low 30s from January - March and October to December. Meanwhile, the summit zone's climate is considered "Arctic", with temperatures dropping below freezing throughout the year. Make sure you're prepared with appropriate clothing and gear by reading our list of Kilimanjaro Essentials.
The months following the rains (December - March and June) are usually the coldest times of the year on Kilimanjaro, with snow likely on the summit. If you want to avoid the crowds, these cooler conditions are good news because they reduce the number of visitors! Take a closer look at our guide to avoiding the crowds.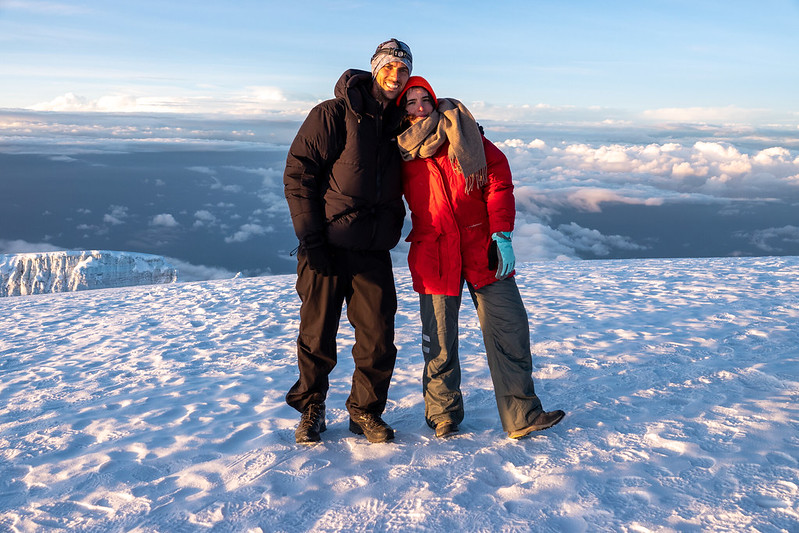 Lunar Phases
Trekking Kilimanjaro during a full moon is a magical experience. On a cloudless night, your midnight summit attempt will be illuminated and you'll hardly need a head torch! If you'd like to plan a full moon hike, you'll need to carefully plan your trek. On a seven day hike, your start date needs to be five days before the date of the full moon.
Don't forget - taking in this incredible sight comes at a cost - full moon climbs are very popular and the mountain gets busy at these times. If you want to avoid the crowds, make sure you're mindful of the lunar phases. The nights before and after the full moon are often a bit quieter than full moon night itself…and the experience is just as breathtaking!
Seasons & Pricing
The time of year that you book your Kilimanjaro trek may influence the price you pay. During the high season, accommodation around the mountain can be more expensive, often increasing to 2 - 4 times the low season price.
Weather impact on other adventures
The season you travel in may also influence the other things that you do before and after your Kilimanjaro trek. To help you out, use this guide:
Safari: Best between Jan - Mar or Jul - Sep
Gorillas & chimps: Best between Jan - Mar or Jul - Sep
Zanzibar: Best between Jul - Sep
Mafia Island: Best between Oct - Mar
Egypt: Best Oct - Apr
Victoria Falls: Best Feb - May
Rest assured, Kilimanjaro and its surrounds are an amazing place to visit year-round, and no matter when you trek, you are going to have an incredible experience!
 
Ready to start planning your African adventure?
Check out our ultimate guide to trekking Mt Kilimanjaro or book a consultation with an African trekking experts to start planning your unforgettable Kilimanjaro trek. Our small group and private adventures are individually crafted to meet your wildest dreams! Secluded beach getaways, romantic safaris, honeymoon surprises, unique accommodation, or something a little weird and wonderful, tell us your wildest adventure dreams and we'll make them a reality. Book a free consultation with an African safari experts today so we can help you plan your dream safari adventure.