Key take aways
Most accessible safari parks include:

Kenya: Nairobi National Park
Tanzania: Arusha, Tarangire, Lake Manyara or Ngorongoro Crater
Botswana: Chobe

Single day safaris are very rushed and whilst they are still incredible, don't expect to see all of Africa's exotic animals in a day
Single day safaris cost between US$150 - $500pp/day. 
Don't underestimate how good a single day safari can be! If you have limited time on your trip, the option to enjoy a safari is still open to you. Here is our wrap up of the best places to go to enjoy a one day safari.
Tanzania
Ngorongoro Crater
Travel from Arusha for a one day safari to visit one of Africa's Seven Natural Wonders. The Ngorongoro Crater is the world's largest unbroken, unflooded caldera. With walls that reach 600m high, a safari inside the Ngorongoro Crater offers a lot more than incredible wildlife viewing, particularly if you can stay one night here. The Ngorongoro Crater has all of Africa's most exotic animals, including rhino, ostrich, buffalo, antelope and zebra. It also has all of the BIG Five, but you will not find giraffe inside the crater because they cannot easily walk in and out of the Ngorongoro Crater due to its steep walls. You may find giraffe on your drive to the crater though. The Ngorongoro Crater is Adventure Out Loud's favourite destination for a one-day safari.
The Ngorongoro Crater is approximately 4 - 5 hours drive from Arusha, meaning a one day safari is very rushed. If time allows, we recommend adding the Ngorongoro Crater to a 2 or more day safari. The sunrise and sunset from the crater rim is also an incredible experience if you can spend a night. 
Tarangire National Park 
If seeing the elephants is on your bucket list, Tarangire National Park is a great place to go for a single day safari. With its large elephant population and beautiful baobab trees, this area epitomises the safari experience. Tarangire is approximately 3 hours drive from Arusha, so if you are up for an early start, it is possible to have a full day of safari and still make it back to Arusha in the evening. Tarangire is home to four of the Big Five, and lion and elephant sightings are frequent. Unfortuntately, you will not find rhino in Tarangire and spotting a leopard can also be hard work. 
Arusha National Park
Many people forego Arusha National Park for the more popular Serengeti National Park, Ngorongoro Crater & Tarangire National Park, which is just what gives the area its appeal. With fewer crowds and its spectacular location in the shadow of Mt Meru, Arusha National Park offers great game viewing, with single-day combination walking and driving safaris. While it is possible to spot leopard in this park, it is unlikely. It is also unlikely you will spot elephants, but you will spot buffalo, hippo, zebra, wildeebest and a number of other exotic animals, including flamingoes. Arusha National Park is also home to the world's largest population of giraffe. Arusha National Park is also very close to Arusha and the Kilimanjaro International Airport, making it a fantastic single day safari option.
Lake Manyara National Park
If you're looking for a slightly more unique safari in Tanzania, Lake Manyara is the pick of the bunch! Well-known for its massive flamingo and cormorant populations, which live near the shallow alkaline Lake Manyara, this national park is also home to hippos, giraffes and huge herds or elephant, as well as the rare Manyara lions, who have incredible tree-climbing skills. Lake Manyara is approximately 3 hours from Arusha, making a single day safari a long day, but still well worth the effort.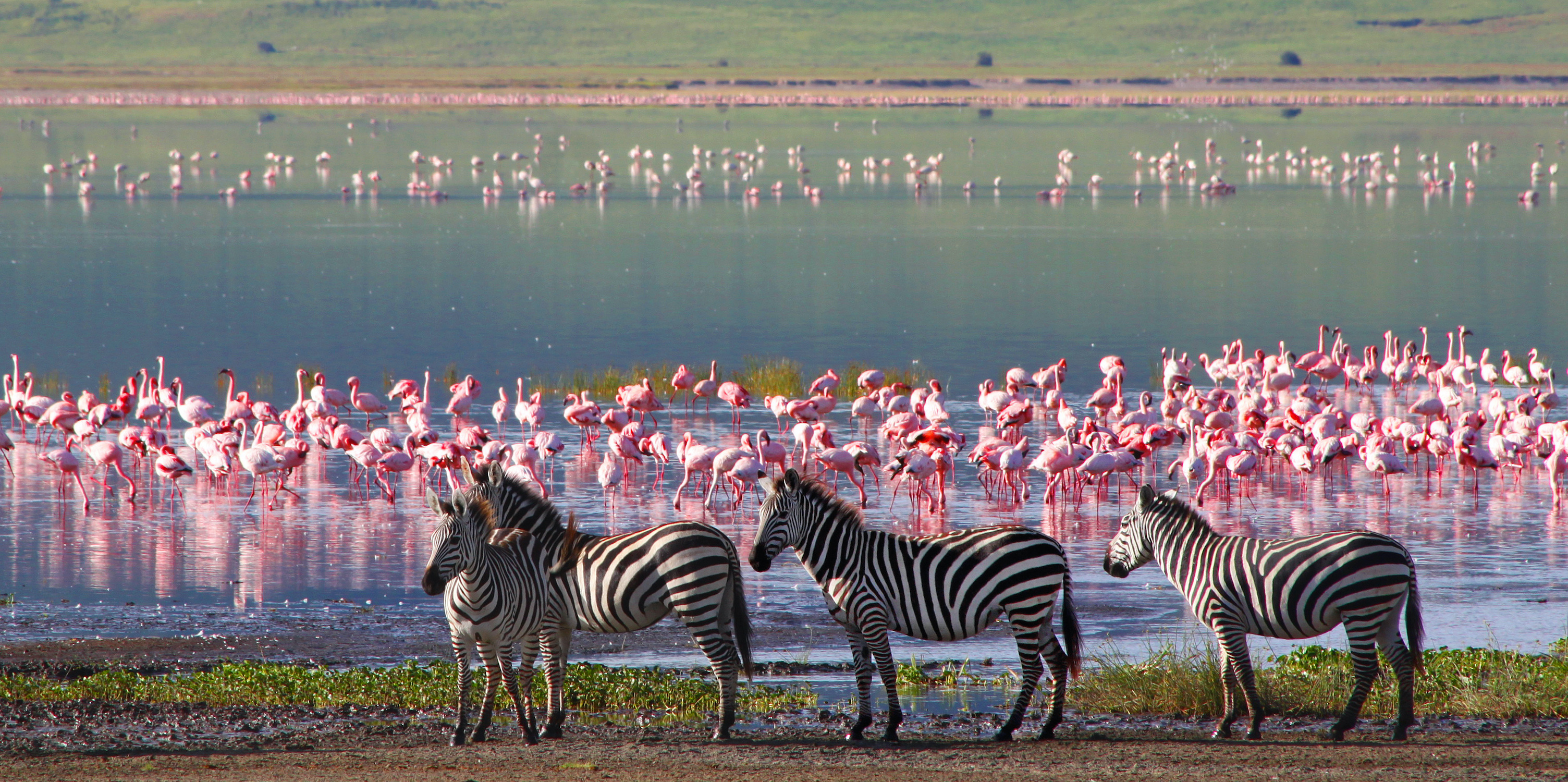 Kenya
Nairobi National Park
Just 7km from the Nairobi city centre, Kenya's oldest national park is the perfect safari destination if you are on a tight schedule. You can actually see the city skyline from inside the national park… but don't let that deter you - Nairobi National Park still has incredible game viewing, with rhinos, giraffes, lions, buffalos, leopards, hyenas, antelopes and gazelles all regularly spotted. Although rare, it is possible to spot the Big Five in a single day safari inside Nairobi National Park, making Nairobi National Park one of the best and most accessible single day safari destinations in the world. 
Amboseli National Park
Known for its huge elephant herds, plus its baboons, giraffes, lions, cheetah and antelope, as well as more than 400 bird species, Amboseli National Park is a great opportunity to cram plenty of game viewing into a single day. Located on the foothills of Mt Kilimanjaro, it's the ideal experience to add on before or after your mountain trek. Amboseli is approximately 4 - 5 hours from Nairobi though so a single day safari is pushing it. Also, if you want to capture that spectacular shot of a giraffe or elephant in front of Kilimanjaro, you might want to allow a few days, Kilimanjaro can be a shy mountain.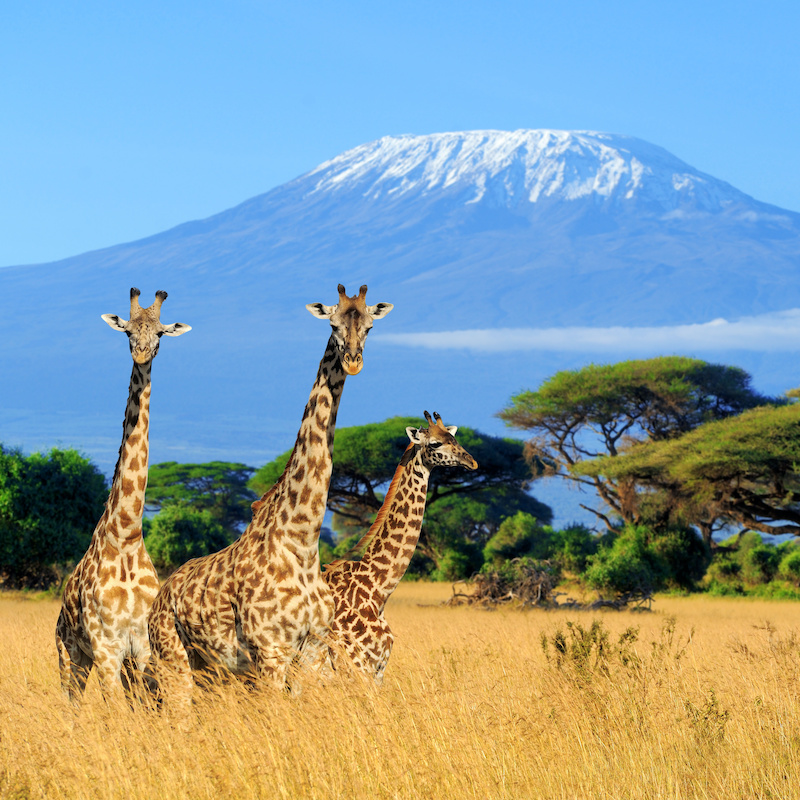 Botswana
Chobe National Park
Offering full-day game drives, or a combination driving and boat safari, Chobe National Park is set on the Chobe River, and its flood plains attract large grazing herds. Lunch at a lodge is often included in single day safaris here. This is a fantastic single-day safari option if you are exploring Victoria Falls. It is possible to spot the Big Five in Chobe and crossing the Botswana-Zimbabwe border is relatively pain-free.
Zambia
Kafue National Park
If you find yourself in Zambia's capital, Lusaka, you should head out for a safari in Zambia's largest national park. Kafue offers a combination of boat and driving safaris, with the opportunity to see the Big Five in an uncrowded setting. Kafue is a long drive from Lusaka though, so best to organise a flight or a multi-day safari.
Lower Zambezi National Park
Best known for canoe safaris that allow you to spot herds of up to 100 elephants at a time, the Lower Zambezi is a great single day safari option for Lusaka. The drive is about 3 hours, making this a very accessible safari park. The Lower Zambezi is also home to hippo, leopard, lion, buffalo, and over 400 bird species. 
Zimbabwe
Hwange National Park
Hwange National Park is a good single-day safari option if you're exploring Victoria Falls. Its grasslands and mopane woods are home to large elephant herds, lions and African wild dogs. You can also explore the Bumbusi National Monument, which includes 18th-century ruins and pre-colonial rock carvings.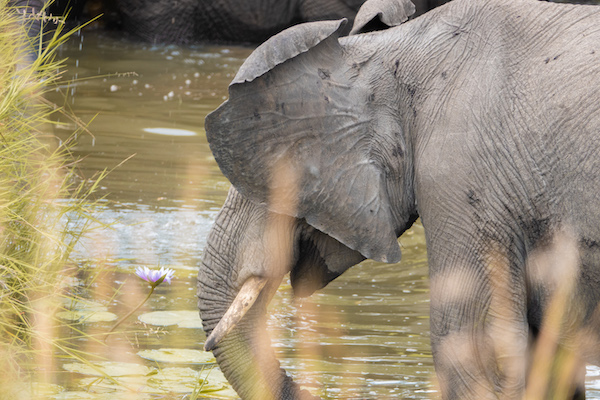 South Africa
Kruger National Park
Kruger National Park is home to South Africa's most diverse cross section of wildlife. Home to the Big Five, single day safaris will often include a stop at a picturesque picnic spot. Note that this experience is only for those staying near the national park. If you are planning to travel from Johannesburg, best to make this a multi-day experience, as the journey takes four hours!
Pilanesburg National Park
A more practical day trip from Johannesburg is Pilanesburg National Park, approximately two and a half hours northwest of the city. Home to approximately 7,000 animal species, including the Big Five, you're guaranteed to see some exciting game sightings, even if you're only in the park for one day.
Aquila Private Game Reserve
Located about 2 hours from Cape Town, Aquila Private Game Reserve is a great option for a single day safari. This 10,000-hectare reserve offers three, half-day safaris options each day (early morning, afternoon, sunset). It is possible to spot the Big Five here, along with giraffes, hippos, antelope, and 170 bird species. Aquila's has an on-site animal rescue center as well as leopard research facilities and their main goal is conservation.
Inverdoorn Game Reserve
Located about 2.5 hours from Cape Town, Inverdoorn Game Reserve is a great option for a single day safari, particularly if you are wanting a luxury experience. Inverdoorn is home to the Big 5, giraffes, zebras, hippos, impalas, springboks, and more, and is one of the most popular safari destinations in South Africa. The Cheetah Sanctuary is another highlight where visitors can see the fastest land animal on earth being put through their paces to ready them for their release back into the wild.  
Ready to start planning your african safari?
Check out our comprehensive guide to safari in Africa or book a consultation with an African safari experts to get an experts ideas and start planning your safari. Our private and custom-built luxury adventures are individually crafted to meet your wildest dreams! Secluded beach getaways, romantic safaris, honeymoon surprises, unique accommodation, or something a little weird and wonderful, tell us your wildest adventure dreams and we'll make them a reality.