Key take aways:
US$1,000 - $1,100pp: Average cost of permits & national park fees. These are fixed costs that cannot be avoided. 
Accommodation before & after your trek is another major driver of cost. 

Budget accommodation costs approx. US$15 - $50pp/day
Mid-range accommodation costs approx. US$75 - $200pp/day
Luxury accommodation costs approx. US$200+pp/day

Group size is another major driver of cost. The larger the group, the cheaper your trek. 
Cutting costs usually results in guides and porters not being paid. 
If you want to save money, trek in the shoulder seasons (mid-Jun & Oct)
The major costs of a Kilimanjaro trek generally include park permits and fees, accommodation, airport transfers, transport to and from the trek, food, equipment, and guide & porter salaries.
If you're wondering why prices are usually quoted in US Dollars (USD), it is because Tanzanian businesses prefer to be paid in USD for three reasons:
African local currency is usually pegged against the USD
The value of local currencies are minimal. For example, Tanzania's highest value note is TZS 10,000, which is equal to USD$5, so paying for a Kilimanjaro trek worth US$5,000 in Tanzanian Shillings would result in you having to carry a massive bag full of notes! Very inconvenient!
USD is a global currency
Adventure Out Loud makes this easier by charging you in AUD and taking the foreign exchange risk at our end.
Don't forget that it is also customary in East Africa to tip, so make sure you factor that into your budget! More on tipping below. 
Cost Breakdown
The average Kilimanjaro trek can cost anywhere between US$2,000 and US$10,000 and you may be wondering, what makes this experience so expensive? We've put together this comprehensive cost breakdown to help you understand exactly what you're paying for.
When trekking Kilimanjaro, we strongly recommend you don't pay under US$2,500, as low-cost operators may cut corners on gear, food, training and fair wages for the guides and porters that will help you up the mountain. Here's a closer look at where your money will go:
US$1,000 - Park and camping fees (approx. US$140pp/day)
US$200 - Accommodation x 2 nights (US$70 - $100pp/night)
US$100 - Airport transfers (US$50 each way)
US$200 - Transfers to/from Kilimanjaro
US$200 - Food
US$700 - Support crew salaries for 7 days to support 1 trekker 
There are also costs for equipment and the cheaper your trekking fee, the more likely your tents will leak or be cold, you won't have a comfortable mat to sleep on and the food you eat may not be freshly prepared, nutritious and safe.
As you can see, most Kilimanjaro treks will cost an operator approximately US$2,000/trekker. Tour operators will then need to make a profit, and cover other overheads like insurance, marketing, office costs, booking staff salaries, etc. If you want a more luxury experience, you expect to pay more for a private toilet, better food, more experienced guides and porters, etc. 
Guide & porter salaries 
Guides and porters need to be paid a fair wage as outlined by KPAP (Kilimanjaro Porters Assistance Project). If the company you use is not paying a minimum of US$10/porter you should not use them. Guides should also be paid at least US$25/day and cooks should be paid at least US$20/day.
For one trekker, you can expect a crew of 6 – 10 people. This means that wages for a seven day trek will be approximately $700.
Tipping tips and tricks
Tipping is expected in Tanzania and on Kilimanjaro. Guides, porters and cooks work incredibly hard to ensure you are safe, happy and comfortable. Our staff are professional and experienced and you'll love their service, so whilst tips might seem high before your trek, most trekkers actually give more once they see how hard our team works. 
To help you budget and to make tipping easier during our Australian guide led small group adventures, we collect tips at the start of the trip and pay them on your behalf. For our private & locally led adventurers, we have developed a Kilimanjaro tipping calculator to help you calculate a minimum tip for your trek.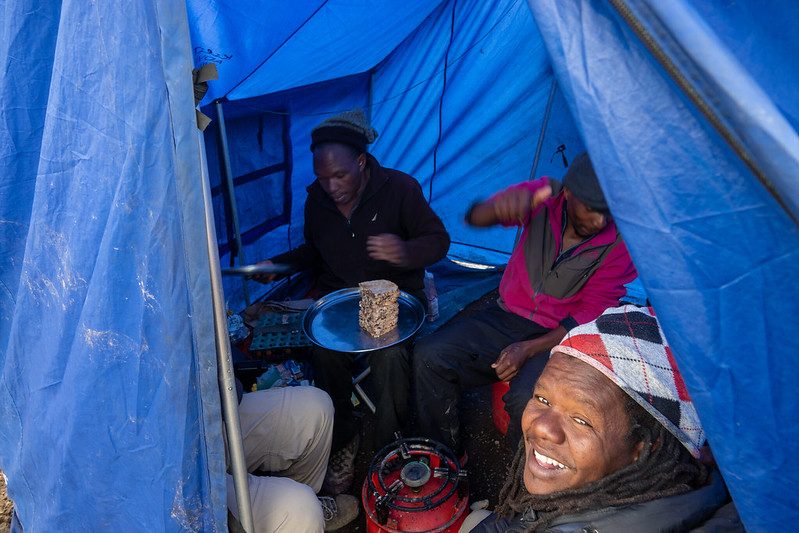 Why do prices for Kilimanjaro vary so much?
The major reasons for price fluctuations are the number of trekkers in the group and accommodation/luxury level. Fixed costs, like transport, are much cheaper when they are shared among 10 trekkers instead of 1. Some variable costs, like crew salaries, are also cheaper when shared, so the best way to save money on Kilimanjaro is to join a group. 
The level of comfort you want before, during and after the trek also contributes to the cost. If you want comfortable camping chairs, a dining table, portable toilet and other luxuries, your price will increase. 
Another major driver is your before and after trek accommodation. For example, if you want 2 nights in a high-end luxury hotel before and after your trek, you may expect your accommodation alone to be US$500 - $5,000pp, compared to a budget hotel for US$50pp/night. As you might expect, accommodation is most expensive during peak season. If you're looking for a way to trek Kilimanjaro on a budget, consider looking at the best times of year to climb the mountain out of peak season.
The general rule of thumb is that you get what you pay for on Kilimanjaro, particularly when it comes to your safety and porter welfare, so be cautious about how you choose to cut costs.
Cost of clothing & gear for Kilimanjaro
You should also make sure you budget some money before your trek even begins to purchase or hire the gear you will need for your trek. Gear is another area where you shouldn't cut costs on Kilimanjaro, as having great gear, especially hiking boots, wet weather and cold weather gear can make your trip a lot more comfortable.
Make sure you consider the season in which you're planning your trek - this can help you plan out all of the gear you'll need, and it can also affect the cost of your trip. A few general rules of thumb we apply are:
Always buy good hiking boots and wear them in before your trek
If you aren't going to use the gear again, hire it to save money (except the essentials outlined in our Kilimanjaro packing blog)
Test your gear is waterproof before your trek by testing in rain or by wetting it
Kilimanjaro is an incredible trek and the cost will be worth it when you are standing on top of the highest free-standing mountain in the world, looking out over the African savanna as the sun comes up in the distance. So what are you waiting for? Start planning your Kilimanjaro adventure today!
Ready to start planning your African adventure?
Check out our ultimate guide to trekking Mt Kilimanjaro or book a consultation with an African trekking experts to start planning your unforgettable Kilimanjaro trek. Our small group and private adventures are individually crafted to meet your wildest dreams! Secluded beach getaways, romantic safaris, honeymoon surprises, unique accommodation, or something a little weird and wonderful, tell us your wildest adventure dreams and we'll make them a reality. Book a free consultation with an African safari experts today so we can help you plan your dream safari adventure.