Safari prices vary from country to country, and are mostly dependent on the accommodation and vehicle style you choose. A general guide is as follows:
Budget safari: USD$150 - $250pp/day
Mid-range safari: USD$300 - $500pp/day
Luxury safari: USD$600+pp/day
What's the difference between a budget, mid-range & luxury safari?
Budget
Price: USD$150 - $250pp/day
Accommodation examples: Fisi Camp or Lenchada Tourist Camp 
Location: Usually outside of the game park
Transport: Safari minivan or large safari bus
Group size: 10 - 50 people
Budget safaris are group tours, usually in a safari minivan or large safari bus, with groups often exceeding 10, some reaching 40 - 50 people. You can expect lodge accommodation to be a basic room with all the essentials including mosquito nets or screens and basic bed. Often the bathroom will be shared. Think similar amenities to a backpacker's hostel, with some tour operators offering private rooms. Another budget safari option is a camping safari, on which you'll be supplied with a tent and sleeping mat, as well as a sleeping bag, unless you wish to bring your own. We recommend also bringing a sleeping bag liner, both for health reasons and for additional insulation. Example Kenyan budget accommodation includes Fisi Camp or Lenchada Tourist Camp (pictured below).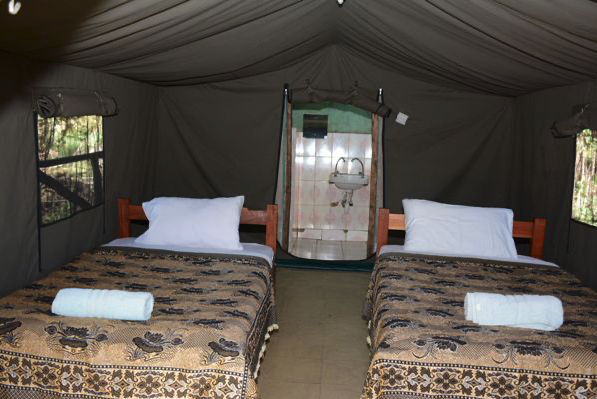 Mid-range - Semi-Luxury
Price: USD$300 - $500pp/day
Accommodation examples: Zebra Plains, Ashnil Safari Camp, or Sekenani Camp
Location: Usually inside the game park with fantastic views
Transport: 4 x 4 safari jeep
Group size: often custom made for you (small group trips up to 12 people)
Usually private, custom made itineraries or small group tours of up to 6 - 12 people, mid-range safaris (sometimes called semi-luxury) generally offer a 4WD safari jeep. The jeep is considerably more comfortable than the van or bus offered in a budget safari. Comfortable safari camp or lodge accommodation provides a lot more space and privacy than a basic room, with permanent tents on offer for mid-range camping tours. At a minimum, mid-range tents will include a comfortable bed, toilet and shower, a lounge or desk, a veranda with comfortable chairs, and a great view. Communal areas will be of a high quality, and food will be freshly prepared and often include multiple courses. The other big difference is that mid-range accommodation will be close to the action, often inside the safari park, whereas budget accommodation may be 1 - 2 hours drive away. An example of mid-range accommodation is Zebra Plains (pictured below), Ashnil Safari Camp, Sekenani Camp.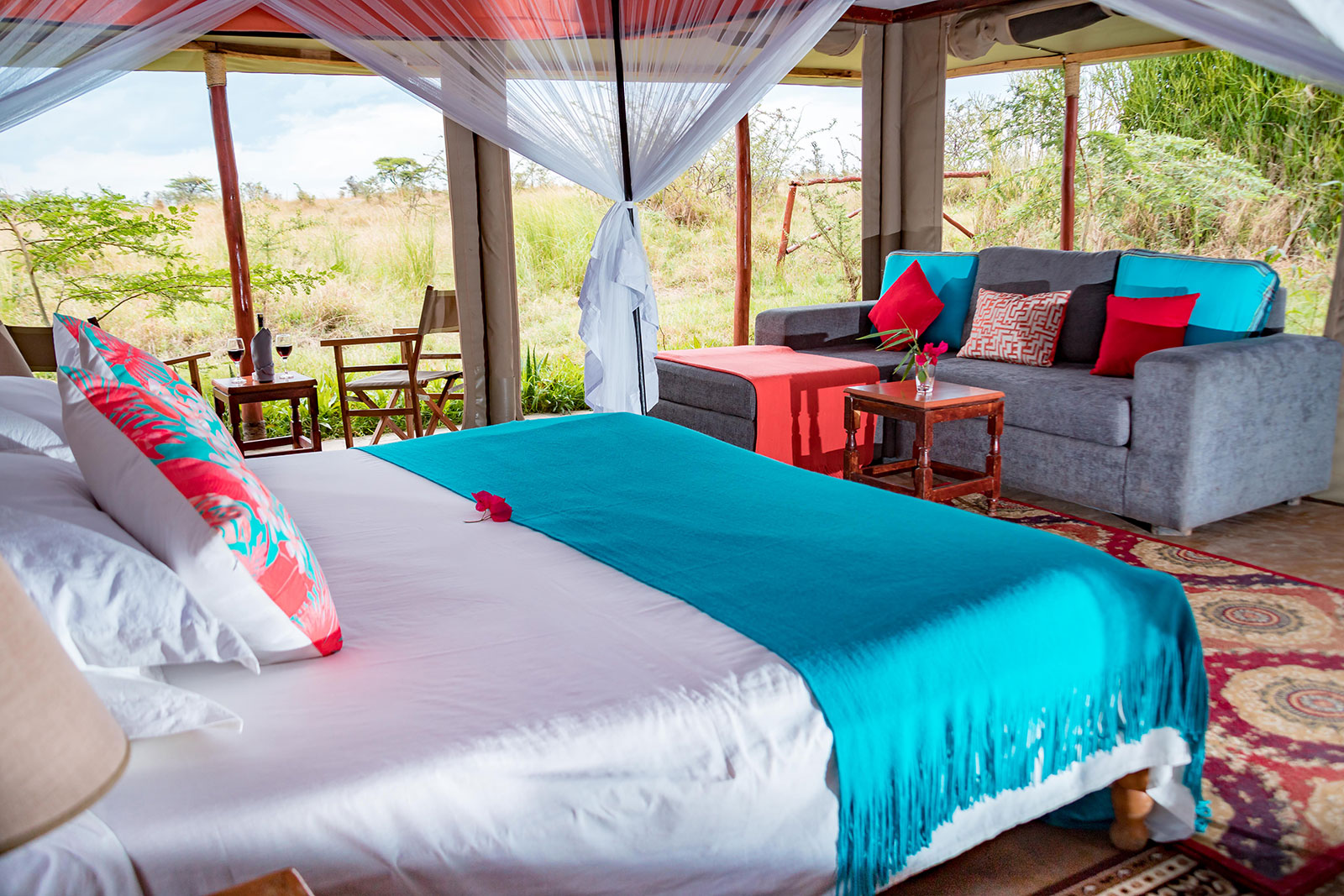 Luxury
Price: USD$600+pp/day
Accommodation examples: Governors Camp, Cottars 1920's Camp, or Lion's Paw
Location: Inside the game park with the most unique and best views
Transport: Luxry 4 x 4 safari jeep
Group size: often custom made for you (small group trips up to 12 people)
The first point of difference that luxury safaris offer is a very comfortable vehicle, often equipped with charging points and a cooler for food and drinks. Accommodation on a luxury safari will be top-tier, with plenty of space and privacy. Some safari lodges offer private villas or cabins, with all offering the very best food and service, as well as the best views and locations in the safari park. Some luxury safaris may also include private charter flights or helicopter rides to the reserve of your choice. An example of luxury accommodation is Governors Camp, Cottars 1920's Camp (pictured below), or Lion's Paw.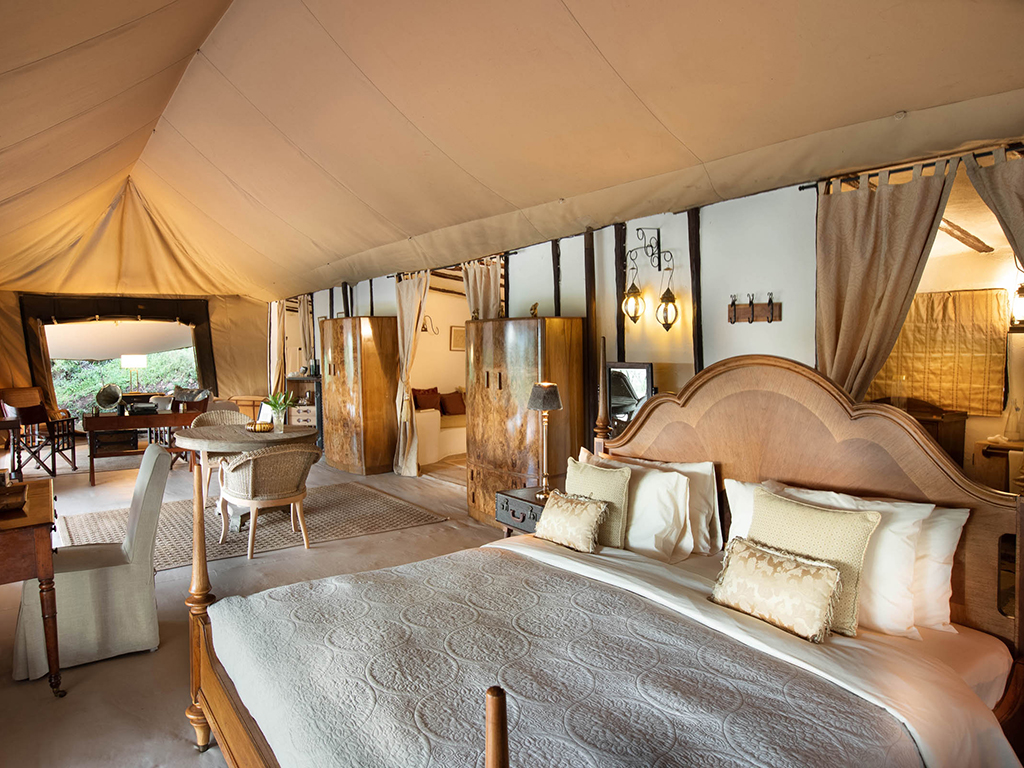 What are the biggest safari costs?
Services will differ depending on the country and the type of safari you're booking, but there are some costs that are almost guaranteed across all safaris. These costs are the biggest driver of your safari pricing, and also the most important things to get right to ensure you have an unforgettable safari. These costs include:
Reputation & experience of tour company
Picking the right tour company is crucial to planning your African safari. A good tour company will take the time to understand what you want from your safari, and then customise an itinerary the exceeds your wildest dreams.  They will take care of all the logistics and make the pre-adventure planning effortless. They will also communicate in a clear and timely manner, so you know exactly what is and is not included in your trip. They should also be able to offer you advice about when and where to go, for how long you should go for, and what else you can do before or after your safari. A good safari company will also have a proven track record, documented safefty and risk management procedures, experienced guides, high quality vehicles, and public liability and other insurances. 
They should also be registered, be able to provide you proof of payment and guarantee your booking, to offer you peace of mind that someone is going to be there to collect you and take you on your safari after you have paid.  Obviously, a company that does all of this, will charge a higher fee than one that does not. Our advice, don't choose the cheapest option. You always get what you pay for on safari. 
Accommodation
Accommodation is usually the biggest expense, and safari accommodation costs can vary from:
USD$50 - $200pp/night for budget,
USD$250 - $450pp/night for mid-range, and
USD$500 - $25,000pp/night for luxury.  
Most accommodation includes your meals (breakfast, lunch & dinner), and the luxury options may also include your game drives, spa treatments, washing, alcohol and charter flights.
Transport style
Generally the best and most popular way to safari is in a 4 x 4 jeep. Jeeps are a great way to cover plenty of ground and can be combined with a walking or boat safari. If you are doing a budget safari, you will likely be in a minivan or a safari bus. We highly recommend choosing a 4 x 4 jeep, which will cost you between US$200 - $350/day. Here are a few pictures of each option: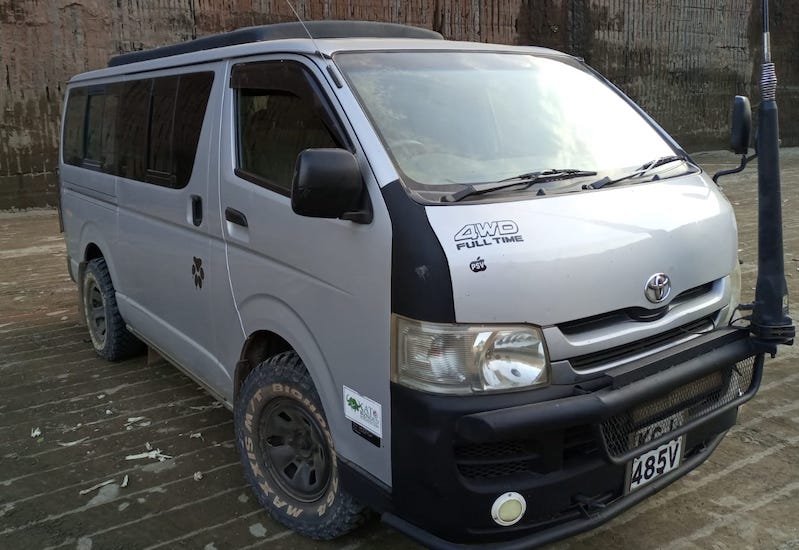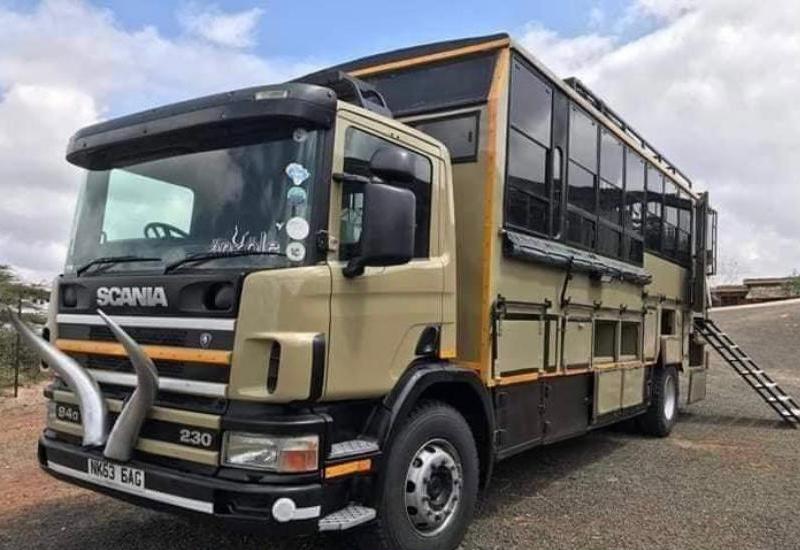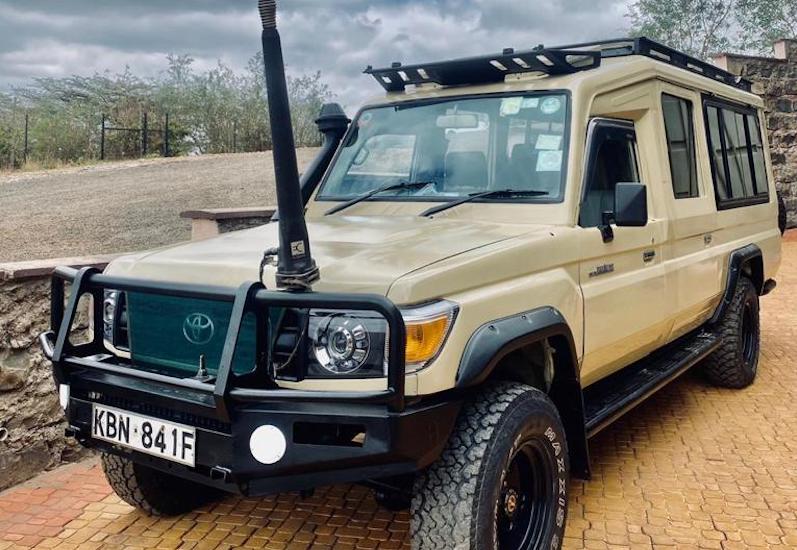 Guide
Your guide can make or break your safari! An experienced guide will help you to make the most of your game viewing experience. They will be very knowledgable, provide lots of interesting facts about each animal, provide books with pictures to help you learn more, and provide binoculars so you can spot animals from a distance. They will also be personable, take an interest in you, and go out of their way to make sure you have the most incredible safari. A bad guide on the other hand, will simply drive you from A to B, won't interact, and will rarely give you information. You want to make sure you have an experienced guide, and the best way to do that is making sure you book through a reputable safari company. When you get a good guide, you should tip them well. We usually recommend US$10pp/day. 
Park fees
Almost every game reserve and national park charges fees to entrants. These fees go towards conservation and wildlife protection projects and environmental management and upkeep. Entry for most parks costs US$50 - $100pp/day.
Flights
For convenience, you may wish to fly to your safari instead of driving. There are plenty of small charter flights across every country that will allow you to directly reach the area of your safari. Charter flights usually range from US$300 - $1,000 per person, depending on the location, season and demand. 
Tipping on safari
In most parts of Africa, tipping is customary, although not mandatory. Tipping rewards, acknowledges and give thanks for good local service. I recommend allowing US$10 - $20pp/day to cover tips for your guide and tips for service at your accommodation. A general rule of thumb is US$10pp/day for your guide, and 10% of your accommodation bill to be added to the accommodation tip jar. 
Where is the cheapest and best safari experience in Africa?
Because the price of your safari will vary depending on the country you choose to visit, we've put together a definitive cost ranking of the top three countries to visit for safari.
1. Kenya
Offers the cheapest safarias and guaranttes an unforgettable experience, particularly during the great migration. 
Budget safaris can be found for as little as US$150pp/day.
2. Tanzania
Offers well priced safaris with lots of options, and the Serengeti is consistently voted Africa's Best Safari Park.
Safaris in Tanzania generally start around US$200pp/day.
3. Botswana
Botswanan safaris are the most expensive, but Botswana offers the most unique and authentic safari experiences. 
A basic safari usually starts at a cost of US$300pp/day.
African safari itinerary ideas
Ready to start planning your african safari?
Check out our comprehensive guide to safari in Africa or book a consultation with an African safari experts to get an experts ideas and start planning your safari. Our private and custom-built luxury adventures are individually crafted to meet your wildest dreams! Secluded beach getaways, romantic safaris, honeymoon surprises, unique accommodation, or something a little weird and wonderful, tell us your wildest adventure dreams and we'll make them a reality.