Gombe National Park is an incredibly rare adventure opportunity. Providing sanctuary to its unique wildlife and an oasis to all who visit, Gombe is home to the longest standing and most treasured chimpanzee research program in the world. It is also one of the most remote, authentic and romantic adventures in Africa.
Founded by the extraordinary Jane Goodall in the 1960s, much of what we know about chimpanzees today is a result of the research completed at Gombe. While the chimps are the main attraction, Gombe has much more to offer. Home to rolling green hills, towering trees, steep valleys and a thriving range of biodiversity – Gombe will leave you in awe from the moment you enter this wilderness wonderland.
Getting to Gombe National Park
Gombe is situated in the remote Tanzania jungles, on the banks of the second-largest freshwater lake in the world, Lake Tanganyika. Due to the remoteness of this National Park, it is only accessible by boat.
Your trip to Gombe will begin after arriving at Kigoma Airport. From Kigoma, you'll be transferred to the stunning Kigoma Hilltop Hotel where you'll be treated to a delicious lunch overlooking one of the most spectacular lookouts in the world. Afterwards, our private boat will pick you up for the 1-hour boat ride to Gombe National Park. 
This is one of the most picturesque boat rides in the world, and you won't be able to take your eyes off the thriving green foliage, sparkling still water and towering mountains around you that make up a small part of the Great Rift Valley. As you approach Gombe National Park, you may be delighted to discover a few cheeky baboons frolicking amongst the sandy shores. If the baboons are not out, about don't worry, your primate safari has only just begun.
Note: Charter flights are available as a transport option to Gombe, but a return ticket from Arusha costs about US$1,500pp.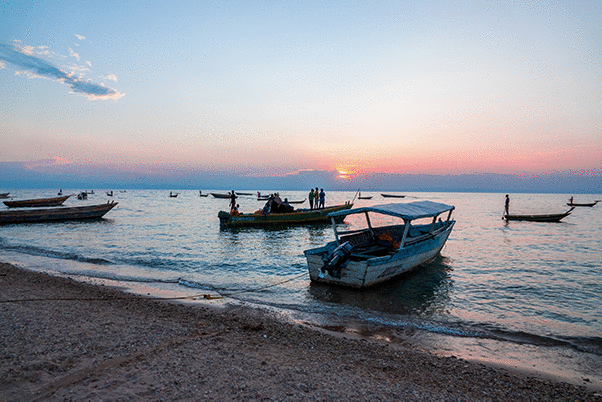 Where to stay at Gombe National Park?
After an action-packed morning of adventure, there is nothing better than returning to your accommodation and relaxing by the lake with an delicious bottle of wine. 
Accommodation at Gombe is limited as less than 2,000 people visit the region each year. Fortunately, there are a few fantastic boutique lodges, so you do not need to compromise on comfort during your adventure. Here are our favourites:
Mbali Mbali Gombe Lodge (approx. US$700 – $800pp/night all inclusive)
In the lush shade of ancient forest trees just off the shores of Lake Tanganyika, lies the small yet intimate Mbali Mbali Gombe Lodge. With a maximum capacity of 14 guests, Mbali Mbali offers a personalised, care-free luxury experience. With private luxury safari tents, delicious fresh Tanzania cuisine and friendly service, Mbali Mbali is Gombe's most exclusive lodge. Mbali Mbali offers an all-inclusive experience which includes all accommodation, transfers, food, activities, WIFI, washing and drinks.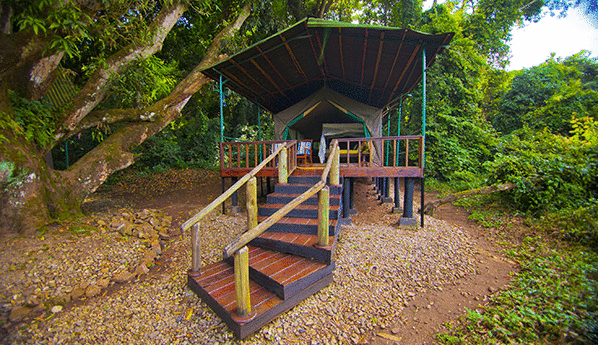 Gombe National Park Bandas (approx. US$100pp/night – meals included)
 On a long sandy beach, surrounded by towering mountains and giant native trees, sits four exclusive lakefront Bandas. Overlooking a private veranda, each Banda includes a large bed and a private toilet and shower. The Banda's are well spaced for privacy, and whilst they are not as luxurious as Mbali Mbali, they are more than comfortable. Your private chef will cook basic, but tasty local dishes and WIFI is available at the National Park head office a few metres away.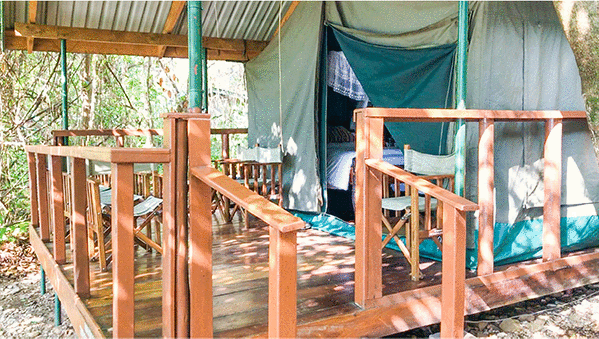 Need budget accommodation at Gombe?
The National Park also offers affordable hostel-style accommodation for those on a budget (approx. US$25pp/night). You can also self-cater to save money.
What to do at Gombe National Park?
Hiking with the Chimpanzee's
We recommend you bring your walking shoes because the first activity you must do is a trek with the chimps. Together with a local guide, you will navigate through the vibrant Gombe forest until you locate a chimpanzee community. For the next 1 hour, you'll have the opportunity to observe wild chimpanzees in their communities, just as Jane Goodall did all those years ago.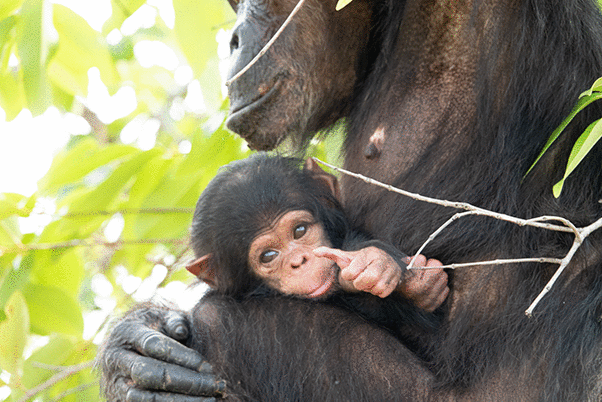 Check out the other wildlife
You can also expect to see other primates during your trek, including beachcomber olive baboons, red colobus, red-tailed monkeys, blue monkeys, and vervet monkeys. Gombe is the only place in the world where you can find red-tailed monkeys and blue monkeys hybridising (mating with another primate species). If you're lucky, you may even spot one of these rare crossbreeds.  
Jungle Trekking
Besides the incredible wildlife you are bound to encounter, the trek itself is stunning! As you trek through some of Tanzania's most remote jungle, brace yourself for a jaw-dropping experience as you discover wild waterfalls and untouched panoramic lookouts over Lake Tanganyika. 
You will need to be reasonably fit to complete this trek as it typically takes between 3 – 5 hours to find the chimps and the terrain is steep. You may also need to leave the track and bush-bash if the chimps are not in clear view. If you are fit but slow (or just very determined), this will not be a problem. You will have your own private guide so you can set the pace.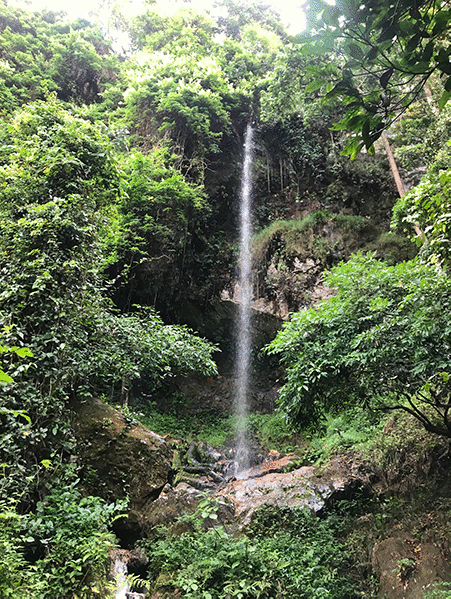 Water sports galore
For those of you who are more of the water adventurer types, Lake Tanganyika offers epic snorkelling, sailing and fishing options guaranteed to quench the thirst of anyone curious about exploring these ancient waters.
And for those who must adhere to the call of a waterfall, be prepared to discover the many falling cascades, all perfect for a quick cool-off after your trek. 
Gombe National Park also provides several activities that are a little bit more laidback, such as bird watching or simply immersing in the natural orchestra around you. Otherwise, you can hire a private guide and enjoy one of the many nature walks in the area. You might even discover one of the original places Jane Goodall frequented when she began her observations of the chimpanzees. 
What is Gombe National Park's history?
Aside from Gombe's exotic inhabitants and activities, that would make every adventurer drool, the Park also has a fascinating history. 
In the 1960s, Jane Goodall's love for animals and desire to see Africa inspired her to set out and observe the chimpanzees of Gombe. Remarkably, Jane had no previous higher education in scientific studies, having previously worked as a secretary. Nonetheless, it is Jane's work that has resulted in countless discoveries about chimpanzees, including the ground-breaking discovery that chimps use tools, show emotions and communicate in similar ways to humans.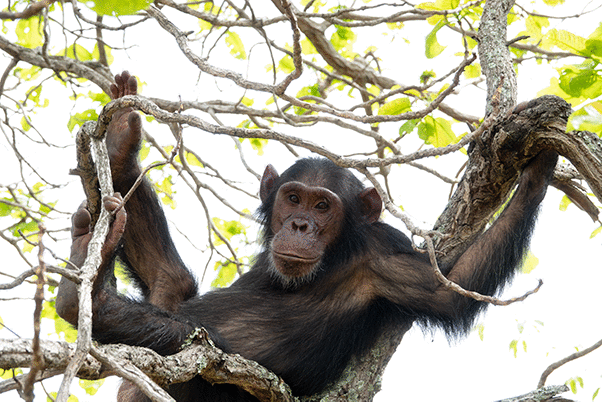 Describing a place like Gombe in a blog is near impossible. It's unlike any other adventure you'll ever embark upon. We love Gombe, and it's easy to see why the park has become our all-time favourite Tanzanian experience. 
From the pan-hoot calls echoing throughout the jungle to being metres away from an animal that shares 98% of our DNA, Gombe is an unforgettable experience that you'll remember for the rest of your life.