Not many countries have as many great adventures to offer as Ethiopia. Many of us think of Ethiopia as the poverty-stricken African country, full of starving children with bloated bellies that we've seen in the World Vision ads. This is NOT the case.
Ethiopia is full of stunning mountains, ancient ruins, gorgeous churches, epic volcanos, magnificent wildlife and beautiful people. We recently spent three weeks in Ethiopia and were blown away by how safe the country is, how much there was to do and how hospitable Ethiopian's are. Nate is still trying to shut Laura up about Injera, their national dish, she's gone mad over it.
The thing we loved most about Ethiopia is that very few people visit. There are no queues, no over-crowded tour buses, and very little heckling, even at popular attractions like Lalibela's UNESCO listed churches. If you're looking for something off the beaten track, Ethiopia is the perfect destination for you. Here's a few Ethiopia adventure ideas to get you started. 
1. Play "Where's Wally" but with churches
Built into cliffs, hundreds of metres above the ground, are more than 120 hidden churches that date back as far as the 4th Century. These churches were built in these remote areas to protect them during the crusades and today many of them are still in pristine condition. 
Our favourite is Abuna Yemata Guh, the church in the sky. This 5th Century church is a little bit of a challenge to get to, but it is possibly the most breathtaking experience of your life. It is not for the faint hearted though as it involves a 40m rock climb. Right now, about 50 – 70 people visit this church each day and in the two hours we were there, we saw three other tourists. 
Most people only take a day trip to visit the churches, our advice, set aside 7 – 10 days to trek through the Gher'alta Mountains. This will give you a chance to stay in a local village, visit many of the most remote churches and trek through some of the most stunning scenery in the world.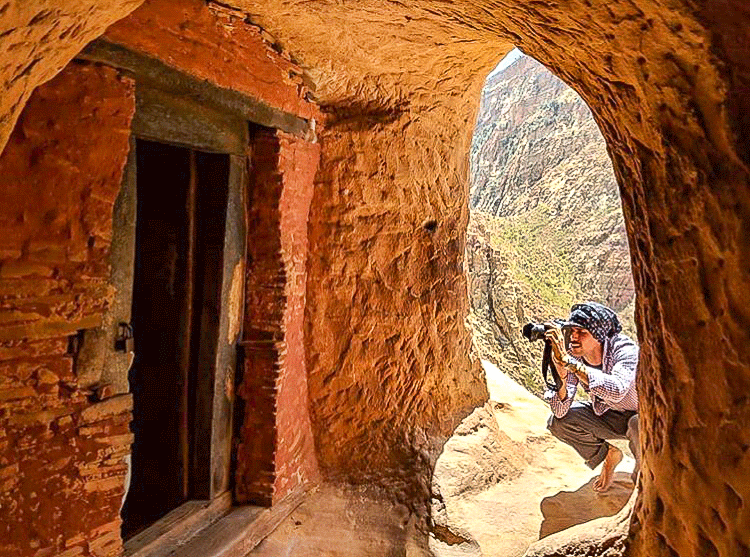 2. Learn to Cook Injera
It is a bad day if you haven't eaten Injera at least twice! Made from fermented Teff flour, this sourdough flatbread has a slightly spongy texture, a mildly sour taste and goes with everything. Eat it with spaghetti for breakfast or stews and salads for lunch and dinner, this is one dish an Ethiopian cannot survive without. 
Injera is relatively easy to make and our advice would be to find someone who speaks English and ask them if they can teach you. Chances are, they'll invite you to their home and teach you themselves because Ethiopian's are incredibly hospitable. Best thing about Injera… it is gluten free!
3. Make friends with a Gelada in the Simien Mountains
Regarded as one of the most stunning national parks in the world, the Simien Mountains offer panoramic views and challenging treks. This region is also home to some of the most unique wildlife on the planet, the most famous being the Gelada, a baboon-looking monkey with a large red hour glass on its chest.
Gelada's are relatively friendly and will allow you to get close enough to get a good picture. They are still a wild animal though so please do not try and touch them and respect their space.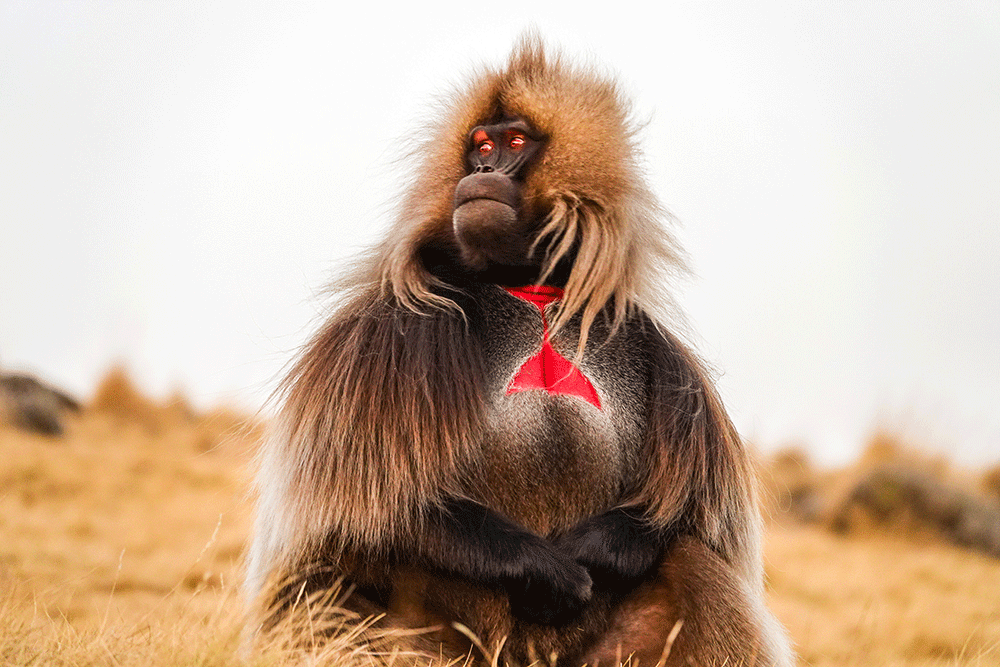 4. Dance like a local
Eskista is a traditional Ethiopian dance characterised by its intense shoulder movement. Performed by men and women to very lively traditional music, Eskista is a lot of fun. You can find performances in many of the tourist restaurants but for an authentic experience, ask your guide to take you to a local place. Our guide took us the night before our Simien Mountains trek and while we went with expectations of getting home early, we had to drag ourselves away at about 1am because we were having so much fun.
Local performances are free but please don't be a tight-ass, throw a few hundred Birr in the tips jar and make sure you buy a drink or two. The touristy place in Addis Ababa charges 400 Birr for an average buffet dinner and a show that is half as good as the local performances we saw so be generous. You won't regret it. 
5. Find a Tej Bar
Tej is traditional Ethiopian honey wine. It is often made at Tej houses which are reasonably easy to find. Beware though, the stuff for tourists is sweet and smooth, but the real-deal Tej has an aggressive methylated spirits punch. Best to start with the tourist places and after sinking a few, head for the local hangout. 
Our favourite Tej was from Four Sisters in Gondar. Warning: too much Tej may result in a few toilet issues the following day. This shouldn't stop you; you just can't complain because we warned you (insert evil laugh).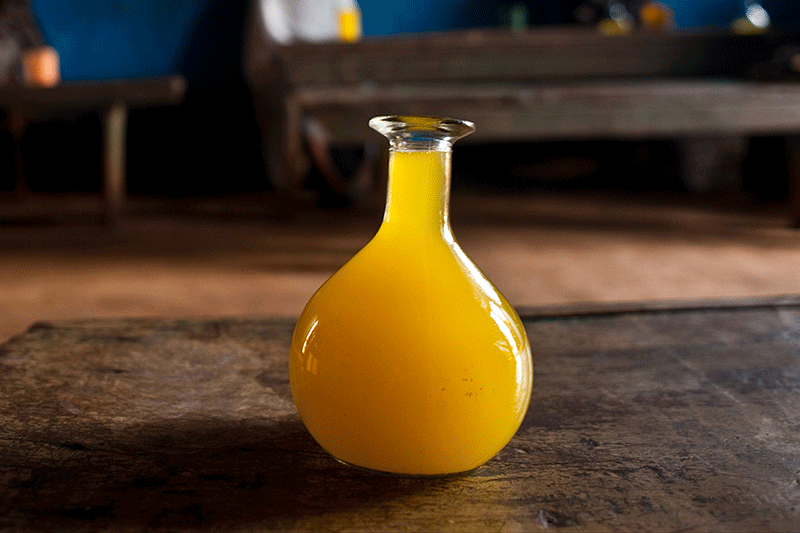 6. Wake up with a Coffee Ceremony

The native origin of coffee is thought to have been Ethiopia and it's not surprising because the locals are mad for it. Each sitting requires three cups and it isn't uncommon for an Ethiopian to have multiple sittings in a day. Ethiopian coffee is also quite strong, is nearly always drunk black and usually contains at least a little grind (maybe it's for texture). It may not be what you are used to at your fancy, Australian cafe but it is undoubtedly delicious and after a night out dancing on Tej, a few coffees will be necessary.
Better still, go to a traditional coffee ceremony. This is like nothing else you've ever been to. The room is decorated with local grasses, the coffee is cooked over hot coals right in front of you and the Ethiopian hospitality is fantastic. You can find many tourist ceremonies wherever you go but for the authentic experience, ask a local to take you to a local coffee house or even better to their house.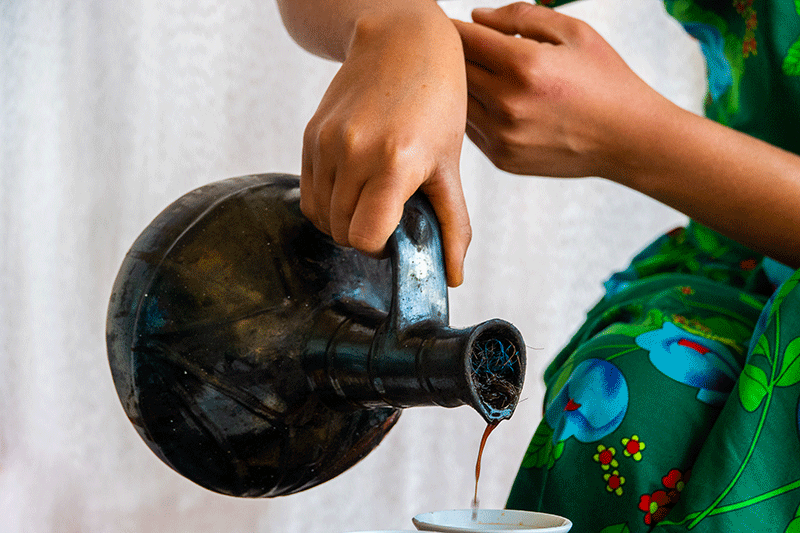 7. Visit the School of St George
Opened in 2014, the School of St George aims to educate the most vulnerable children in Ethiopia. Today, St George provides a high- quality, free education to more than 300 disadvantaged children and in just 4 years, the organisation has already achieving outstanding results.
In 2018, the school's academic results were four times higher than the national average, and in a country where half of all children leave school by the age of eight, St George's retention rate of 100% is extraordinary.
Our partnership with St George offers you a unique opportunity to immerse in to this life-changing school. Assist their dedicated teachers with their lessons, teach the students and teachers English, visit the home of one of our sponsor students and make a difference in the fight against poverty by keeping disadvantaged students in school.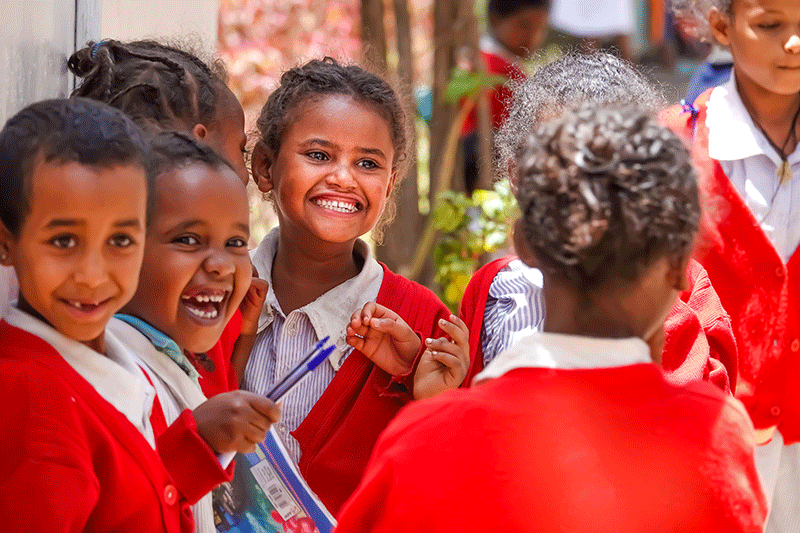 Ethiopia has so much to offer, these are just a few examples, you will find hundreds more in this adventure paradise. Worried about safety? Ethiopia is a safe country to visit and we were surprised that we were able to safely walk around at night outside of Addis Ababa – locals even encouraged us to. Tourism is relatively non-existent and at least for the moment you can visit the country's most popular attractions without the crowds. This will change though so our advice is to get there soon. Happy adventuring and give us a shout if you need help planning your Ethiopian adventure.
 
Ready to start planning your African adventure?
Book a free consultation with an African adventure expert to get started. Our private and custom-built luxury adventures are individually crafted to meet your wildest dreams! Secluded beach getaways, romantic safaris, honeymoon surprises, unique accommodation, or something a little weird and wonderful, tell us your wildest adventure dreams and we'll make them a reality.